Do you know why Instagram has more users than Twitter? I dare to say it's because of the difference in their content types.
While Twitter is a text-heavy platform, Instagram focuses more on visuals. And that's why it attracts more users.
My point here is the human brain is drawn to visuals faster than texts.
Therefore, if you want to get better results from your marketing campaigns, you need to start using more visual content.
To further support my claim, a research from Search Engine People revealed that 80% of people remember what they see, compared to ten percent what they hear and 20 percent of what they read.
Even T-Sciences reports that the human brain processes images 60,000 times faster than text. Clearly, visual content has better effects than text-based content.
6 types of visual content your marketing campaigns need
1) Images
The importance of images in any marketing content cannot be overstated. Whether newsletters, blog posts, press releases, web copies, or social media posts, images do well on every platform.
In one of his posts, marketing expert Jeff Bullas claims that content with images gets 94% more views than those without.
If you want a much-improved return on your marketing investments, investing in original and quality images is not debatable.
As you probably know, the internet is already oversaturated with text-based content. Everywhere people go, they're greeted with text-heavy posts that bore their lives out. The best way to stand out of this crowd and get noticed quickly is to deploy attention-grabbing images wherever you can.
2) Infographics
Infographics refer to a form of visual content that combines texts with images.
Originally, they were only popular on social media platforms, as people used them to convey thoughts, facts, and statistics. However, nowadays, they're just as popular on other digital platforms as they are on social media.
Wherever your marketing campaign carries you to, you can confidently post infographics and expect to get a good result from it.
When crafted well, infographics have the ability to capture a reader's attention faster than other content types. And because they combine the effects of texts and images, they represent a better alternative to both.
Finally, depending on the purpose of your marketing campaign, your infographic can come off as a How-to guide, Hierarchical graph, illustrative mind map, data visualization chart, comparison chart, timeline, process graph, statistics image, etc.
3) Videos
Even after all these years, movies still remain an integral part of our lives. You know why? Because the human brain loves to consume visual content more than anything else.
As a marketer or a business owner, integrating videos in your campaigns is absolutely non-negotiable. You just have to do it.
When constructed well, videos tend to hook the audience and keep them lured in.
Of course, there are numerous types of videos you could use to market your business.
For starters, you could start with promotional videos or informative videos like how-to guides. Later on, you can move into demonstrative or inspirational videos like testimonials to spark an interest in your products. Finally, don't forget user-generated videos for reach expansion and explainer videos for authority establishment.
4) Memes
Memes refer to those humorous content we sometimes stumble upon on social media. They've become such an integral part of marketing that everybody now uses them in their campaigns. If you, too, want to take your marketing efforts to the next level, you need to hop on this meme train.
Today, any brand that's not tapping into the powers of memes is just shooting itself in the legs. Gone are those days when memes were viewed as merely a Gen Z thing. Nowadays, even the top dogs are using it.
Let's quickly take a look at some big brands using memes on social media.
Here's the popular skincare company, Curology, feeling 'MEMEfied'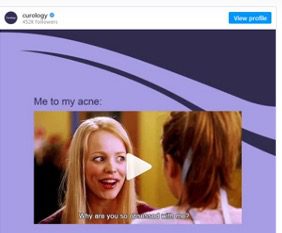 Here's another example from the giant publisher for young women, Bustle,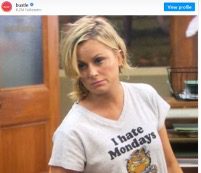 Even Netflix is in on the act.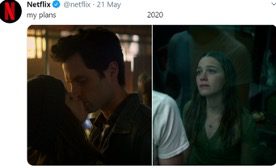 Still think you're too big to post memes? Well, keep folding your arms as the rest of the world, and your competitors continue to enjoy marketing success with the new trend.
5) Presentations
Who said presentations are only meant to be shared with your bosses in the conference room? Nowadays, the average internet users are okay with brands communicating with them using presentational content. After all, that's why they visit platforms like Slideshare.
With these sites, brands can easily post slideshows and presentations to interact and engage with their audience.
In case you're wondering how presentations can serve your marketing purposes, just think of them as a combination of infographics. So, instead of having just one infographic posted on Instagram, Twitter, or Facebook, you're posting a bundle of them on presentation-friendly sites like Slideshare.
Furthermore, you can also post presentations on your business website as a slideshow. It can go on the homepage, the blog page, or a service page. And it can serve the purpose of teaching customers new things or answering their questions.
6) Screenshots
Who else has noticed that screenshots are now a big thing in the digital world?
I mean, people now post screenshots of transactions with customers on their Facebook pages, screenshots of reviews and testimonials on their Instagram pages, and screenshots of customer inquiries on their Twitter feed. Some people even post screenshots of shares and reports of their posts on their feeds or websites.
You, too, can hop on the train. Integrating screenshots in your marketing campaigns can help boost your social proof. It can also showcase that you're a credible brand.
Additionally, if you chat with an industry expert or a powerful figure in your niche, taking a screenshot and posting can go a long way in showcasing your credibility.
By and large, screenshots may not seem like the regular visual content type you're used to, but it's an important trust-building tool you don't want to ignore.