Are you needing a bathroom renovation but are unsure how to go about it? Let's handle that with a few bathroom renovation suggestions to get you started. Although bathrooms are the smallest rooms in a home, a modest update to their appearance can significantly change how the area is perceived.
However, some works, like pipe and electrical installation, require expertise. To prevent making expensive problems while redesigning your bathroom, do it right. When done properly, bathroom remodeling is a delightful experience. Let's have a look at some great bathroom design ideas.
Choosing a Modern White Bathroom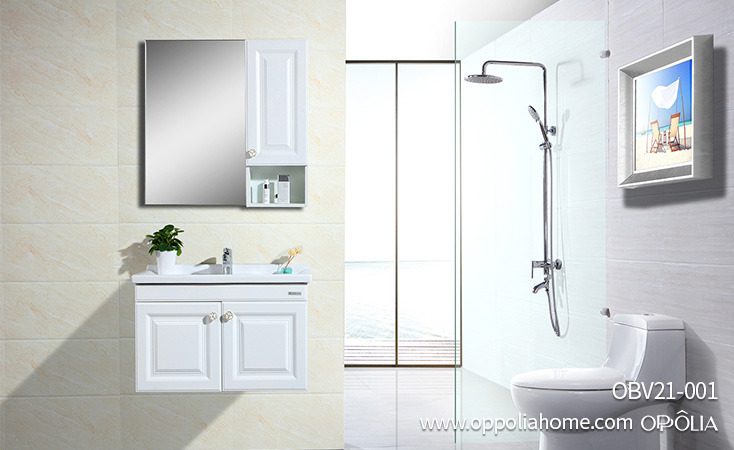 Source: OPPOLIA
The most adaptable bathroom design is an all-white motif. Because it is timeless, you can be sure that it won't go out of style soon. Because of its brightness and lightness, your bathroom will appear more spacious and lovely. A fresh coat of white paint and a few natural accents in your bathroom will completely transform the space.
White wall tiles and continuous flooring will give the bathroom a polished, clean aesthetic that will make it look newer. You may opt for a wall-mounted or freestanding bathroom vanity with a charming point of distinction in its finish to enliven your white bathroom.
Consider a Black Theme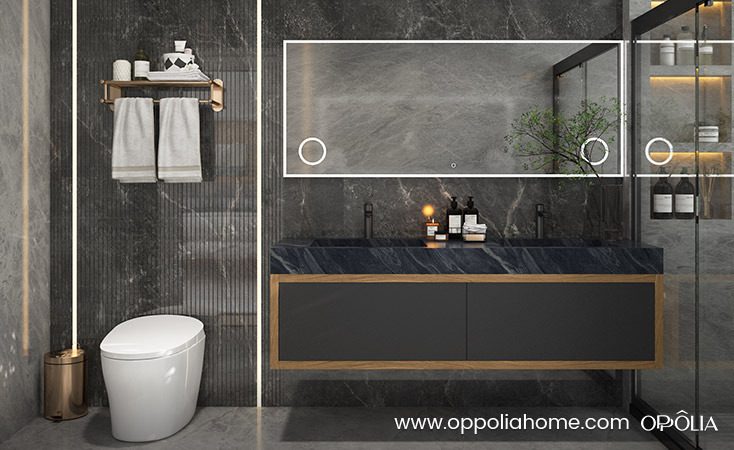 Source: OPPOLIA
Making the bathroom feel amazing is crucial since it is a place of relaxation. Black is one of the most classic colors that can completely change a bathroom. The color is perfect for adding coziness to an excessively vast environment. Compared to many other colors, it also offers a more contemporary and sleek style.
Black baths can give your home a spa-like ambiance and a sense of tranquility that other rooms may be unable to. Paint the surfaces and walls black, and dare to go all-black. Then you can decorate it with vibrant artwork. You will like the timeless and refined end look.
Installing New Sinks and Faucets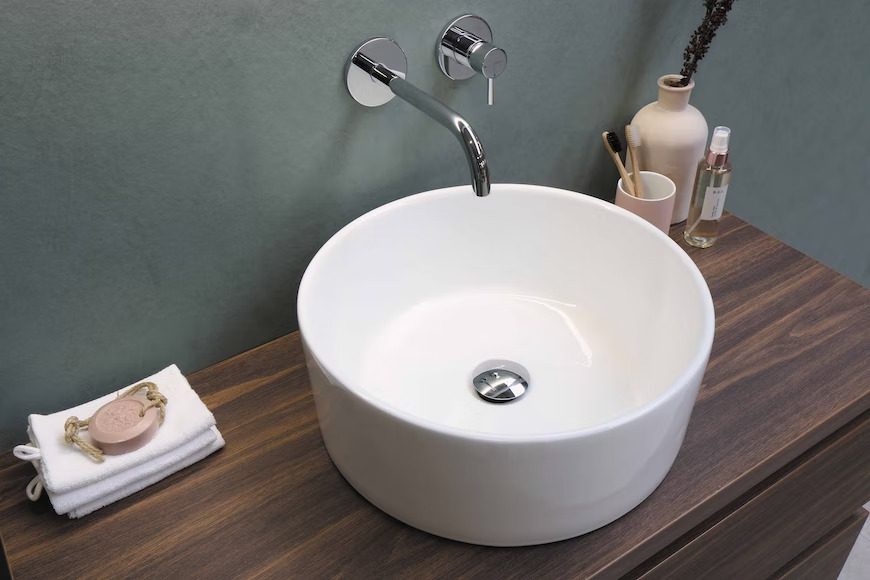 Designers and do-it-yourselfers utilize this technique to make a sink gleam without replacing the entire top or vanity. Sink faucets are simple, quick, and cheap to install on your own, which is helpful. You don't need to hire experts like plumbers and electricians. This not only reduces labor expenses but also saves time. Only one sink faucet needs to be picked up, and it can be installed in a half-day.
Integrating Wood in your Bathroom
Source: OPPOLIA
Wood can be utilized in the shower, on the floor, and even for worktops. It creates a smooth transition from the bathroom to the rest of your house. Wood is an eco-friendly material that can be used in practically any design, from classic to minimalist. A wood countertop paired with smooth ceramic tiles or shiny metal fixtures will create a gorgeous focal point for any bathroom.
You can also Install the best wooden countertops for your vanity shelf to incorporate wooden bathroom decor in your space. With the right design, which you can get from OPPOLIA bathroom designs, your bathroom's form and functionality will be enhanced. You can also go for an all-wood design that will enhance the bathroom's overall coziness and provide you with a wonderful bathroom experience every time you use it.
Using Wall-mounted Bathroom Vanities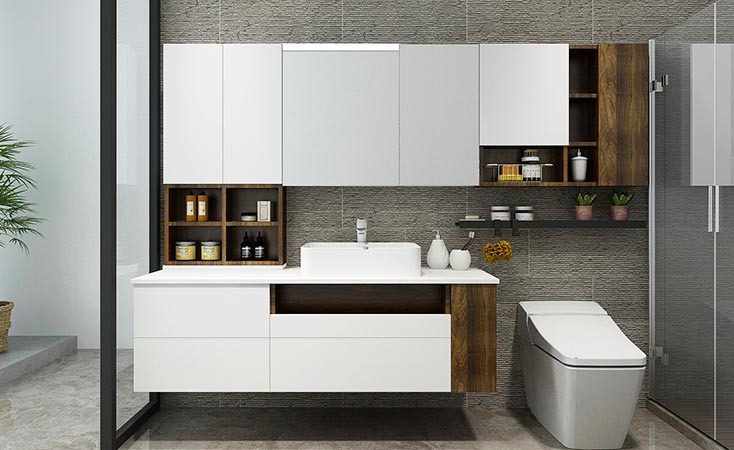 Source: OPPOLIA
In modern bathrooms, wall-mount vanities are a popular trend. The units normally don't have legs for support and mount to the wall rather than sitting on the floor. Wall-mount units give excellent, clean lines and a modern appearance that may fit into any bathroom design in terms of style.
A wall-mounted vanity is accompanied by a cabinet or drawers, which, apart from the aesthetic appeal, work well for concealing bathroom essentials from the public.
Furthermore, they give the impression of additional space, enlarging the little bathroom space. Floating bathroom vanities make it simple to wipe or clean the floor underneath. A floating bathroom vanity is a perfect option for those who are obnoxious about cleaning and hygiene.
Choosing Warm Colors and Long-lasting paint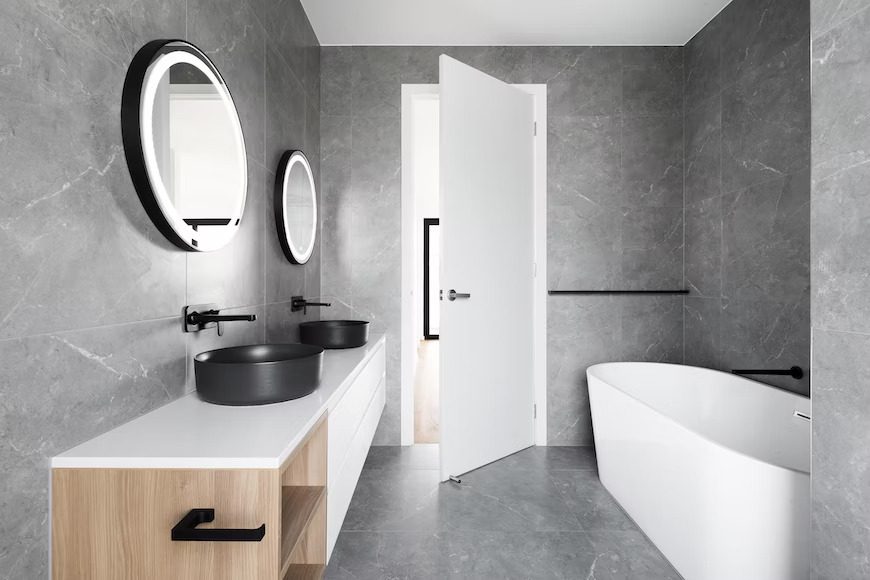 We should keep our bathrooms looking new and updated as our tastes change because they play such a significant role in our relaxation and how we get ready for the day. Without spending thousands on a full redesign, this is a simple way to update the bathroom's drab and outdated appearance. A fresh coat of paint in a nicer tone will do wonders for the entire space. Any bathroom that has been painted will appear fresh and appealing.
Conclusion
Despite being little room in the house, upgrading the bathroom is expensive for homeowners. Other frustrations that come with the remodeling process include missed deadlines and disappointments. Even though it might not seem imaginable, a beautiful yet reasonably-priced bathroom redesign is entirely doable. You can get started using the concepts we've covered, and you'll have a lovely space.