Snow-covered terrain becomes even more attractive for off-road driving enthusiasts. In this article, we will try to give 5 tips for off-roading in the snow.
During winter, the roads are not always clean and safe due to ice and snow. It is why we need the right car equipped with snow tires or chains, but also some precautions that must not be missing when driving.
5 Tips for Off-Roading in the Snow
1. Attention
The first tip is the most obvious one: drive carefully. Try to choose the highest gear possible, and always keep in mind the weather you may encounter. Also, pay attention to the surface with beaten snow and the snow-covered roads that do not yet show footprints of other tires.
Excessive side slopes or ice can create significant driving differences. Even with an off-road vehicle in the winter, you must avoid sudden acceleration, sudden braking, and violent steering. If you decide to keep a moderate and constant speed, please avoid not thinking of driving a crawler.
2. Beaten snow
For the roads covered by beaten snow, engage the four-wheel drive and proceed without exceeding gradients of 25/30%. Better not to engage a gear that is too low because the risk of wheel slippage increases. It is also better to decrease the pressure by 1 atm. So, you will ensure the best contact surface of the wheel on the ground. Finally, rely on the indications given on the tires of the various manufacturers to get the optimal pressure of your tires.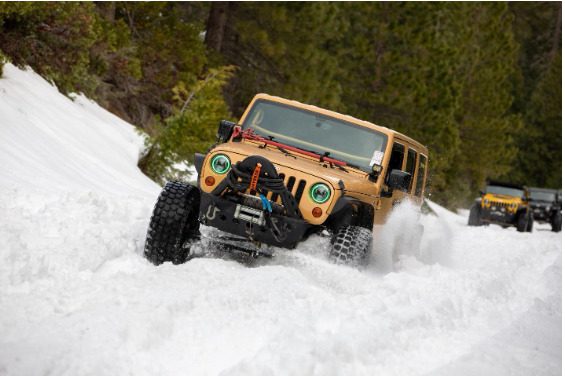 Fresh snow
If the snowpack is up to only 30 centimeters and has not been hit by any vehicle before your passage, there should be no problems. Using chains is highly recommended, preferably on the front axle (without forgetting to check the various legal obligations depending on the country in which you drive), and avoiding the excessive accumulation of snow in front of the radiator.
If you are driving one of the most modern off-road cars with powerful engines and greater ground clearance, drive smoothly over deeper snow layers. Then, use even momentum to drive through deep snow. Either way, caution, and common sense should help keep you from getting stuck due to hidden holes and dips.
4. Descent
The descent on freshly snowy terrain can be dangerous. So, it is better to face it by using the brakes as little as possible. The advice is to rely only on the engine brake. Engage the first gear and start the descent to intervene on the accelerator if the wheels turn too slowly compared to the speed reached by car. If your off-road vehicle skids on the slope, accelerate just enough to restore traction to the wheels. In this way, you will regain control of driving and the car.
5. Updates
Before leaving for your journey, find out in advance about the time of the last snow and the wind conditions and temperatures of the place you need to reach. If you are below freezing, the snow is still hard and consistent. The coat could be brittle and make driving difficult. Finally, make sure you have clothing suitable for climatic conditions, preferably in layers so that you can adjust accordingly.
What Equipment to Drive on Snow?
Preserve adhesion
The problem with winter driving is adhesion. Wet, icy, or snowy roads affect handling. So, to continue to ride safely, you need to equip yourself.
The first option: is winter tires whose rubber remains flexible in low temperatures and whose treads are wider and deeper. They must be installed as soon as temperatures fall below 5 degrees Celsius. The date of their installation depends on the weather and the region where you live.
But be careful! Remember to put the summer tires back on as soon as the cold period is over: in warmer weather, your tires would then be useless and wear out quickly.
Studded tires
In the event of heavy snow, winter tires are not enough. You need specific equipment, which may even be mandatory sometimes, to access winter sports resorts.
The first option is the studded tire. As its name suggests, it has studs that act like studs. Be careful that they can only be used in mountainous areas and in the event of snow. They are perfect for a ski holiday limited to 90 km/h.
The chains
As being more flexible to use, the chains are placed over the tires. But beware that they are reserved for snowy areas. And as soon as they are installed, you should no longer drive at over 50 km/h. They are more restrictive in traffic than studded tires.
The chains are available in two versions:
Chains with manual tension are less expensive but require some practice for their installation. Train yourself to install them before the snow arrives when you have time because discovering them during a snowstorm at nightfall would be the worst situation!

Self-tensioning chains are easier to install but more expensive. If you only need it for a few days of winter sports, the investment may seem disproportionate.
Be careful that some cars are not chainable. If the space between the tire and the suspension strut is less than 4 cm, a chain will not pass! This impossibility is well shown by the manufacturer. Turn to alternative equipment.
Socks
Snow socks have the same role as chains but are distinguished by their ease of installation. Like socks, they slip on. They also limit the speed to 50 km/h and must be used occasionally. They are easier to use but require cleaning and drying after each use. If you neglect this maintenance, their lifespan will be shortened.
Conclusion
The same advice for driving in rain also applies in part to snow: if not strictly necessary, give up the trip. If you leave anyway, the car must be in a correct state of general maintenance and adequately equipped. Above all, it must fit winter tires with a tread of at least 4 mm and inflated to the pressure set by the car manufacturer.