HubSpot's recent State of Inbound report reveals that content creation is a top priority among marketing teams.
This means more brands will produce content to widen their reach, attract more audiences, and increase revenue.
However, content marketing is not easy. It's a broad and tricky area where it's difficult to pinpoint what works and what doesn't. After all, consumer taste and behavior change continuously.
Even if you have good content, very few will read it if you don't know how to promote and optimize it for the web.
However, your content marketing strategy doesn't need to be elaborate to engage your audience and drive more traffic. Sometimes, the simplest methods work wonders.
To improve your content strategy, follow these simple and evergreen marketing tips.
Stick to a schedule.
You might not realize it, but posting content consistently means a lot to your audience—and your business.
A consistent content schedule not only creates a better customer experience, but it also establishes credibility and trust with your brand.
In fact, McKinsey & Company says that consistency is a key factor in making your customers happy throughout their buyer journey.
Moreover, Techipedia says that consistent brands are worth 20% more than those who are not.
With this, you should place importance on creating and following a content schedule for each of your marketing channels.
It will not only benefit your audience, but it also organizes your process of producing content.
Combine a consistent schedule with high-quality content, and your audience will always look forward to engaging with you.
Also, streamline your content creation process and scheduling by using a reliable marketing project management software so you don't miss deadlines and audience engagement opportunities.
Use more visuals.
Many think that content marketing only includes written content such as blogs and ebooks. However, videos and images are also important and powerful parts of content marketing.
Visual content marketing presents valuable content to your audience through appealing imagery and videos.
In a content-saturated market, it's an effective way to grab your audience's attention. Just look at your Facebook feed and count how much visual content you see.
Moreover, formats like photos, videos, and even memes make your content more shareable for your audience.
However, visual content marketing doesn't have to be grand to catch attention. It could be as simple and witty as the Grammarly Cards on Pinterest.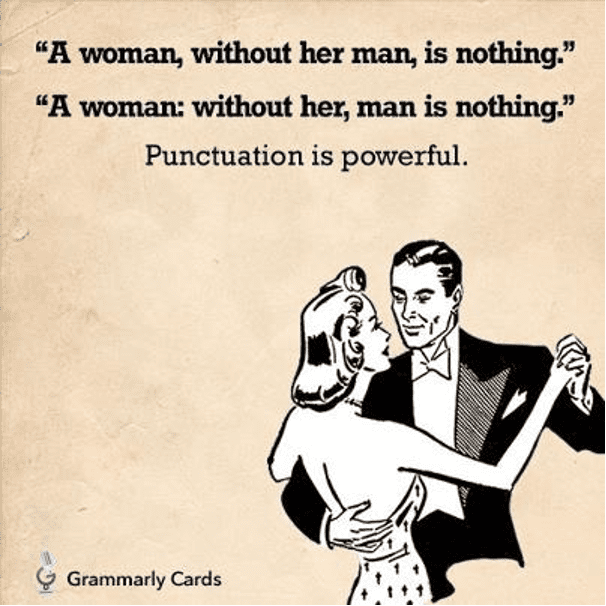 Image source: coschedule.com
It cleverly promotes Grammarly in a fun and informative way. These are also the types of content that Grammarly's target audience appreciates.
Ultimately, content marketing is about bringing value to your audience. So, start thinking about how you can use visuals to deliver valuable content.
Nail the visual content type that helps you meet your content marketing goals to help you get optimum returns for your efforts, from making money on Instagram to increasing website conversions and sales.
Create useful content.
Bringing value to your audience does not only mean providing the best insights, but it also means offering useful content.
For example, LinkedIn Marketing Solutions offer free resources such as a Content Marketing Toolkit that contains checklists and templates for all your content marketing needs.
As an example, here's what their SEO checklist looks like:
Image source: linkedin.com.
Instead of creating a series of how-to blogs, they made a simple resource that marketers can actually use to help them implement their strategies.
Another great example is online courses. While it takes more effort to create online video courses, it's a good investment to make for your brand.
It's a good content marketing strategy to establish your credibility in your field, and build trust with your audience.
To create helpful content for your audience, start by identifying their pain points.
What prevents your target audience from buying your product or service? And what can you offer to resolve their pain points?
Write attention-grabbing headlines.
When publishing content on your blog or social media page, the first thing your audience sees is your title.
The moment your audience sees your title, they should want to click your article and read more. In other words, your headers make or break your content strategy.
Even with amazing well-written content, your audience will skip on your article if you don't promote it with a good headline.
However, marketers know that it's difficult to determine what appeals to your audience. To resolve this, try using a headline tester such as CoSchedule's Headline Analyzer.
Enter your title, and it gives you a score based on word balance, title length, and more. It also offers suggestions to improve your title.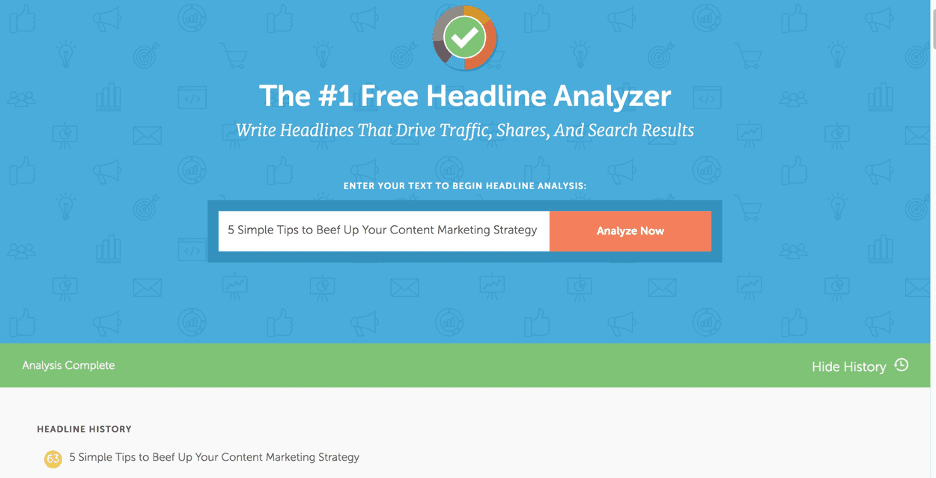 Image source: coschedule.com.
While this is not an end-all solution, it helps make your titles more impactful and optimized for SEO.
Paying attention to your headline also allows search engines to crawl your content better, and ultimately, brings more traffic to your website.
Repurpose content.
Repurposing content means taking a top-performing content and turning it into another medium like a video, infographic, or email campaign.
You can also rewrite content to either expand on it as an ebook or narrow down a key point as a blog.
Content repurposing is a handy marketing strategy for many reasons.
For one, you save time and effort by creating multiple types of content using one idea.
You can turn your blog into a social media post, newsletter, infographic, video content, whichever format works best.
Additionally, you widen your audience reach since you have more content to post on your channels. This lets you tap on a variety of your target audience.
Moreover, the more content you publish, the more you establish your online presence.
This increases brand awareness, builds your audience, and ultimately, generates more sales.
Lastly, repurposing content also improves your SEO. More high-quality content gives a signal to Google that you are a reliable source of information.
As a result, you increase your credibility and overall SEO ranking.
Look at your existing content and think about how you can repurpose it into a relevant content or medium to your audience.
What's next?
Content marketing is broad and involves multiple marketing channels.
There are more ways to improve your strategy to leverage your content and drive the results you want.
The following tips seem too simple, but it makes a noticeable difference with your content strategy.
When creating your content marketing strategy, remember that your goal is to engage with your audience, and build trust. Once you meet that goal, results will follow.