Construction sites are potential targets for theft and vandalism due to their vulnerability. According to the statistics from the National Insurance Crime Bureau (NICB) and the National Equipment Register, annual theft of construction and farm equipment is said to cause financial losses between $300 million to $1 billion. The worst part, owners got only 23% of stolen construction equipment. Hence, Construction site security is a matter of concern for all builders, whether they work on residential or commercial projects.
Often, construction sites are a soft target for ill-intended individuals. To prevent theft of materials, machinery, and other supplies from the site, one must be vigilant 24*7. Practically, it is not possible, and that's where tips for the security of construction sites come in handy.
So, without further ado, let's delve deep into this article encompassing five expert tips for construction site security.
Five Tips for Ultimate Security of Construction Site
There's no denying that construction site security must be at the top of your priority list. Here are some tips to improve the safety of the site; follow them and relax: – 
Invest in Security Cameras:
To prevent the theft of supplies, materials, or equipment, you can consider installing security cameras at the construction site. From the term "security cameras," you might remember those 480p cameras with only a 12-hour memory storage option. Be informed that technology has come a long way.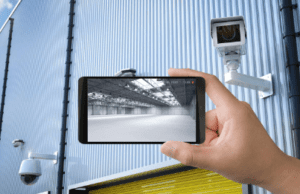 You can invest in modern cameras packed with many features, including alarm systems, motion lights, etc. Once you install modern security cameras at the construction site, the risk of theft reduces to a great extent. However, you can't blindly choose any security system or cameras; ensure your security cameras have the following features: –
HD camera option.  

Live view of the construction site.  

Time-lapsing (in case you want to create a project progress video).  

Automation through motion alerts to know if something suspicious is happening at the site.
Hire Security Guards:
When you combine human power with modern security cameras, the risk of theft from the construction site reduces to zero. Consider hiring on-site security personnel with good surveillance skills. A security guard can help protect the construction site from theft of supplies, materials, equipment, etc.
2-4 guards on a 12-hour rotation are enough to secure your construction site. Though hiring a security guard is worth it, they always have a risk of injury on the job. Considering this, most builders rely more on technology to protect their construction from mishaps. Simply put, you should always weigh the pros and cons before deciding and if the benefits outweigh the drawback, then avail of the services.
Install a Security Fence:
Enhance construction site security by installing a security fence around the property's perimeter. It can help improve your construction's safety; however, remember that it's a minor inconvenience for thieves. They can always break security with the right tools and equipment. So, follow the below points while installing a fence around your construction site to ensure the highest safety: –
 

Height of Fence:

Consider installing at least an 8-foot high fence since they're harder to climb. By doing so, you can ensure the utmost security of the construction site.

Number of Entries:

Reduce the number of entries. The fewer gates the construction site will have, the better it will be for security.

Keep area Clear:

Don't let clutter accumulate around the fence, as it may help criminals in climbing.
Remember Daytime Security of the Construction Site:
Most builders or companies focus only on night construction site security. They forget that thieves may enter the site in the daytime also. In many cases, thieves disguise themselves as workers and steal expensive equipment from construction sites.
Prevent thieves from disguising themselves as workers by having all your workers wear uniforms. So, if any ill-intended person with the wrong attire, your security personnel will know. Then,  you can ask those individuals a series of questions to determine if they come to the site for stealing purposes.
The series of questions may include the following: –
     

For whom do you work here?

     

What do you do here as a worker?

     

For how long you have been working on this project?
If that person cannot answer these questions correctly, call the cops ASAP.
Construction Crane Security: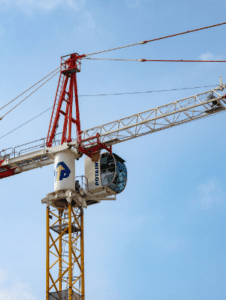 If you have a construction crane at the site with no fences around the property perimeter, you're inviting trespassers; that's the greatest threat to your bottom line. In addition, children or urban explorers may break into your construction site for dangerous stunts, resulting in a significant mishap.
So, ensure you follow all the guidelines for construction site security if you have a crane at the site.
Final Verdict:
"Construction site security" and "security construction" are the most searched terms by builders or development companies. Securing the site from theft and mishap is challenging, but with proper precautions and following the above tips, you can enhance the security of your construction site.
Hopefully, the tips in this write-up will help you with security and safety at the construction site.