In the ever-evolving world of photography, capturing stunning images is just the first step. To truly make your photos stand out, you need powerful tools that can enhance their quality and bring out their true potential.
Thanks to advancements in artificial intelligence (AI), photo enhancer online free tools have become increasingly popular. These innovative solutions leverage the power of AI algorithms to automatically enhance and improve your photos with just a few clicks.
In this article, we will explore the five best AI photo enhancer online free tools worth trying in 2023. From intelligent noise reduction to advanced color correction, these tools offer a wide range of features to enhance photo online free.
I. HitPaw Online Photo Enhancer Free
(i) Brief Description of HitPaw Online Photo Enhancer Free
HitPaw Online Photo Enhancer Free is a cutting-edge online tool that utilizes AI-based technology to enhance the quality of your photos. It offers a range of powerful features and functionalities, all while being completely free to use.
Whether you want to upscale images without losing quality, remove imperfections, or simply enhance the overall appearance of your photos, HitPaw Online Photo Enhancer Free is the ideal choice.
Despite its online photo enhancer free version, it paid version that comes with sea of added features cost only $8.99 per week. The weekly paid version with pro features ensures a seamless user experience with high-priority processing speed and the ability to download up to 80 images, all without any watermarks.
(ii) Key Features and Functionalities
The free online photo enhancer supports multiple formats, including JPG, PNG, and TIFF
Allows upscaling your images by up to 8 times without sacrificing quality
Offers various magnification options, including 1X, 2X, 4X, and 8X
Leverages advanced AI to enhance your photos automatically, ensuring exceptional results without requiring extensive manual editing
Ensures 100% safety and privacy as it does not collect any user data, and all uploaded images are automatically deleted after 48 hours
No signup needed to use it for free
 (iii) How to Use It To Enhance Photo Quality Online Free
The steps to use this amazing tool to enhance photos online for free are pretty straightforward.
Step 1: Start by uploading the image you wish to enhance. The tool accepts various image file formats, allowing you to work with your preferred file types.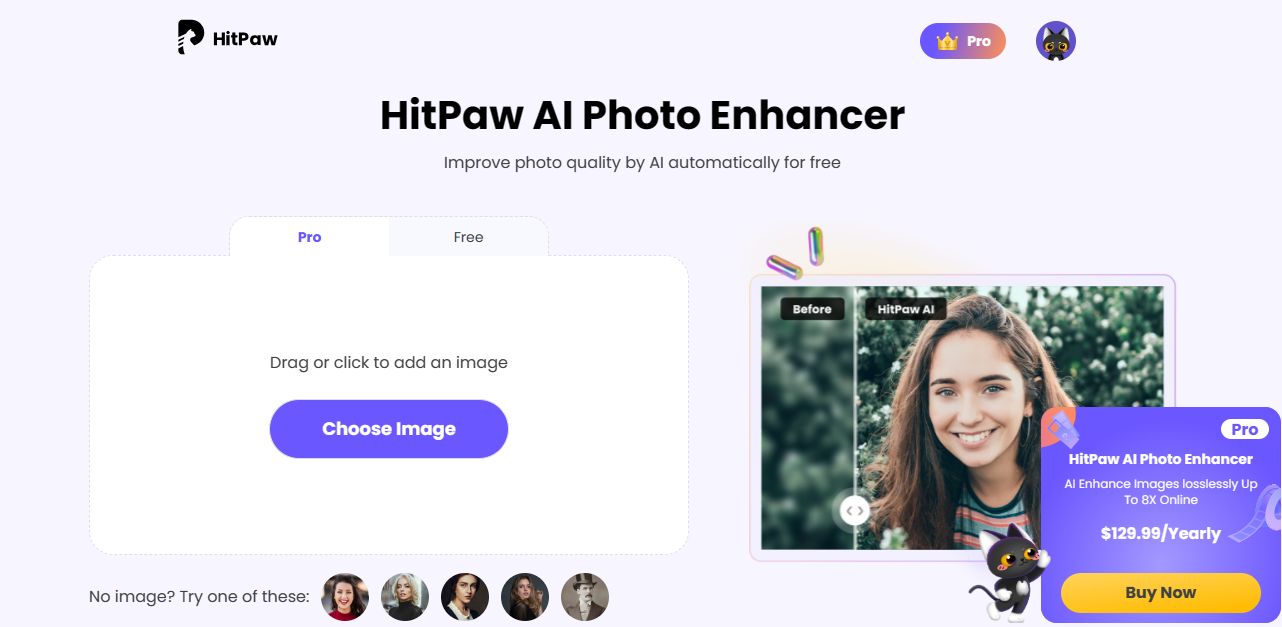 Step 2: Now, choose the desired output format, style, and magnification level. This free photo enhancer online provides a range of customization options to meet your specific enhancement needs.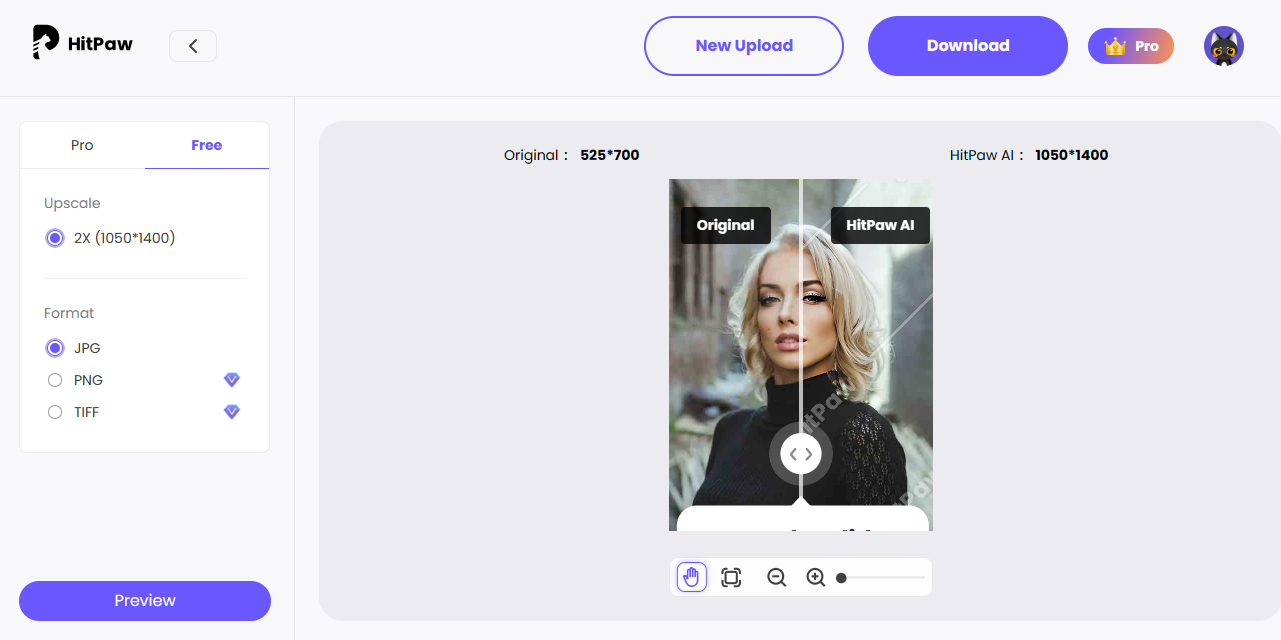 Step 3: Finally, click "Apply" to initiate the enhancement process. You will then be able to preview the enhanced result and download the improved image to your device.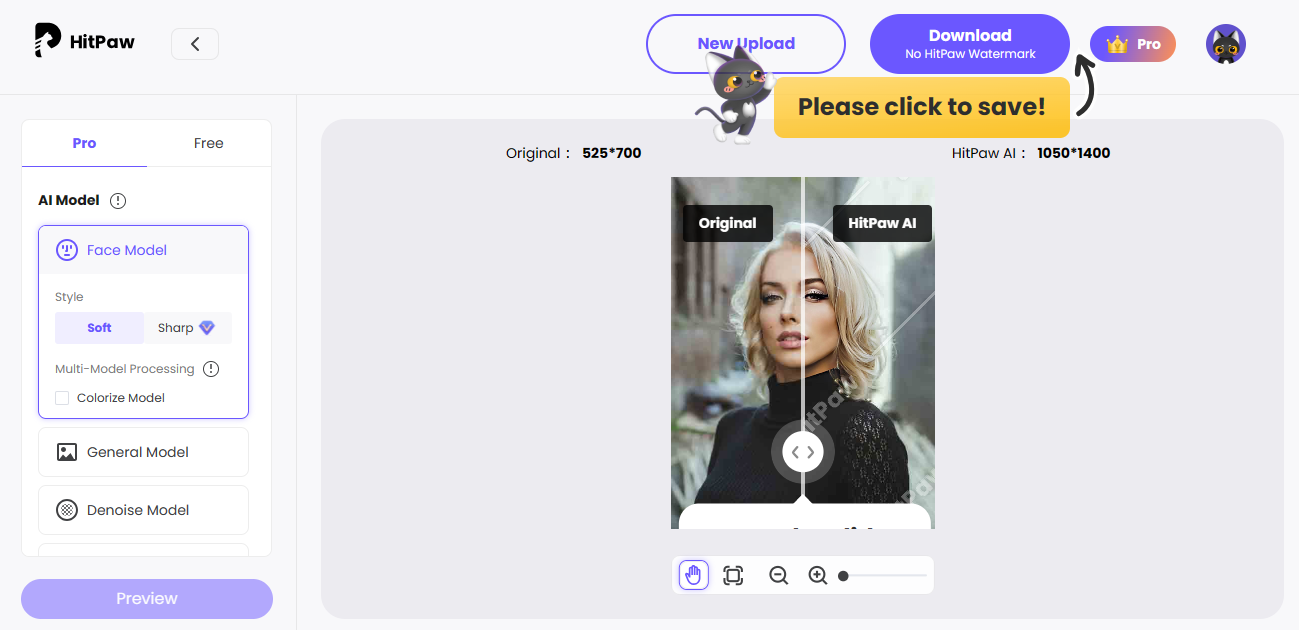 II. Picwish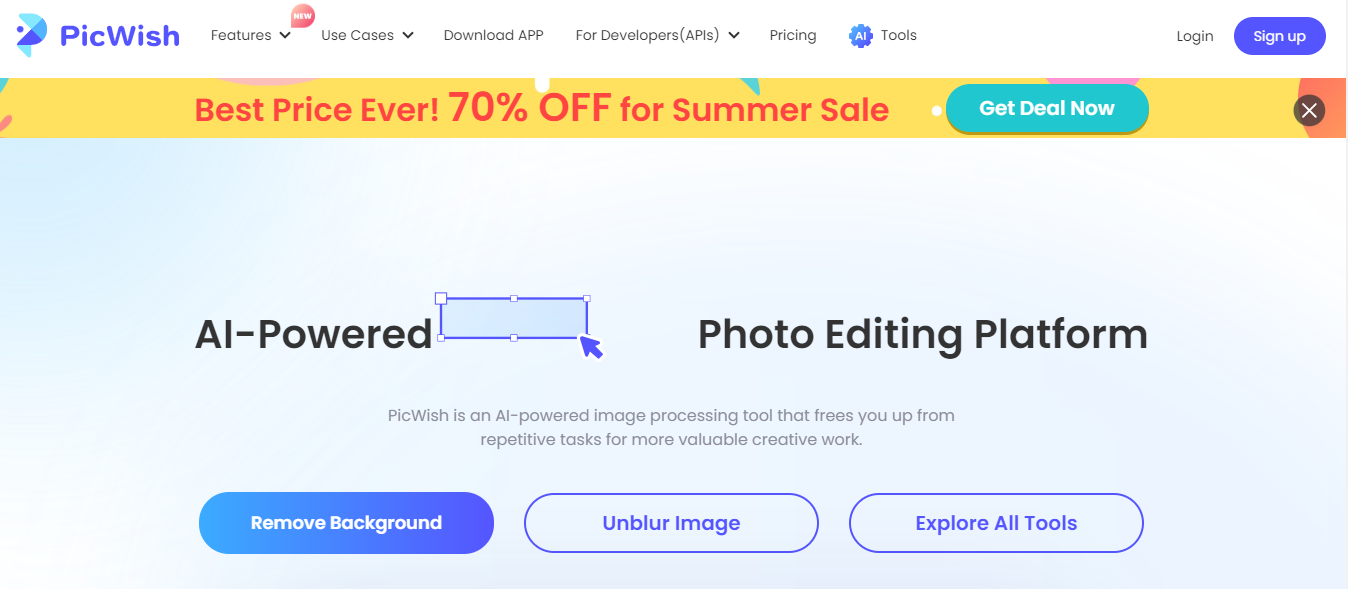 (i) Introduction to Picwish photo enhancer
Picwish is another online photo enhancer free to watch out for in 2023 that allows you to enhance your photos to their best potential. This free service tool employs AI enhancement algorithms to quickly transform blurry pictures into clear and high-quality images. With Picwish, you can upscale your photos as many times as needed until you achieve the perfect result. Whether it's a portrait, product, or graphic photo, this remarkable online photo enhancer guarantees satisfying outcomes.
(ii) Pros and Cons
Pros:
Enhance photos online for free with Picwish
Picwish ensures that your enhanced photos are free from any unwanted watermarks
Benefit from advanced AI technology for optimal photo enhancement
Enhance various types of photos, including portraits, products, and graphics
Cons:
Requires an internet connection to access and utilize the online photo enhancer free tool
Users may have limited control over specific enhancement parameters
The extent of enhancement may be constrained by the quality of the original photo
III.  Let's Enhance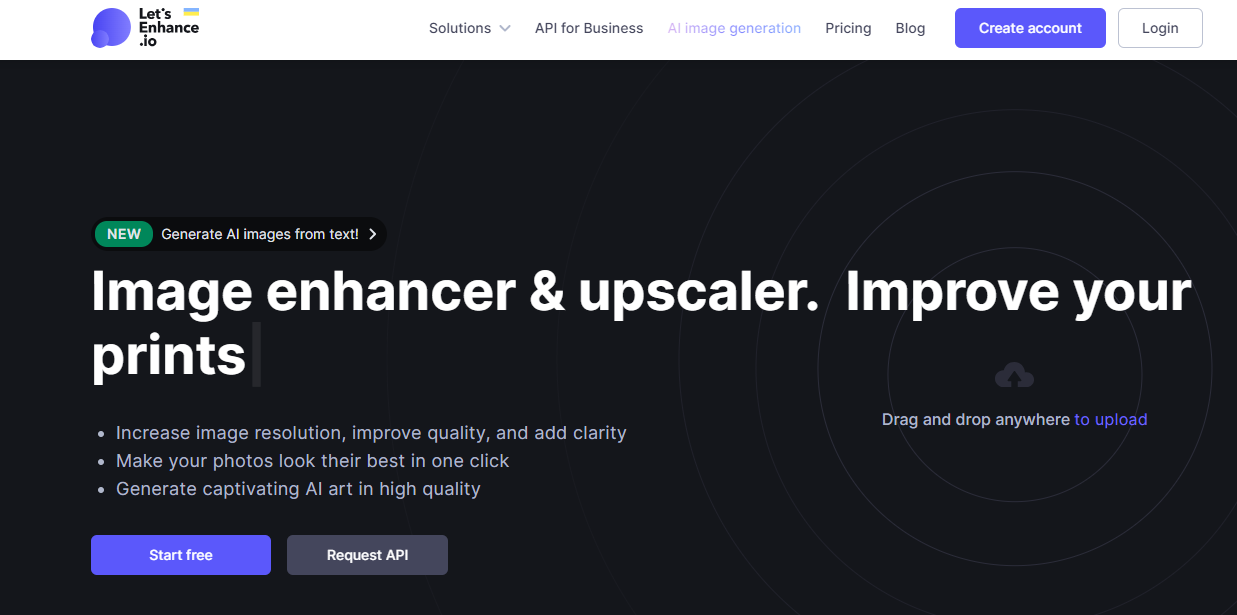 (i) Overview of Let's Enhance online tool
Let's Enhance is an online photo enhancer free that allows you to upscale and enhance your images without compromising on quality. As it harnesses AI technology, you can transform low-resolution pictures into high-resolution masterpieces with just a few clicks. Whether you want to print or share your photos online, Let's Enhance offers a convenient and easy-to-use solution.
(ii) Pros and Cons
Pros:
Upscale pictures without losing quality up to 16x
Enhance photos online for free with no watermark
Utilizes AI technology to upscale images with remarkable accuracy
Fixes pixelation and blur, resulting in sharper and clearer images
Cons:
Limited editing options compared to professional photo editing software
Reliance on not so advanced AI algorithms may occasionally produce unexpected results
Processing time may vary depending on the size and complexity of the image
IV. FotoJet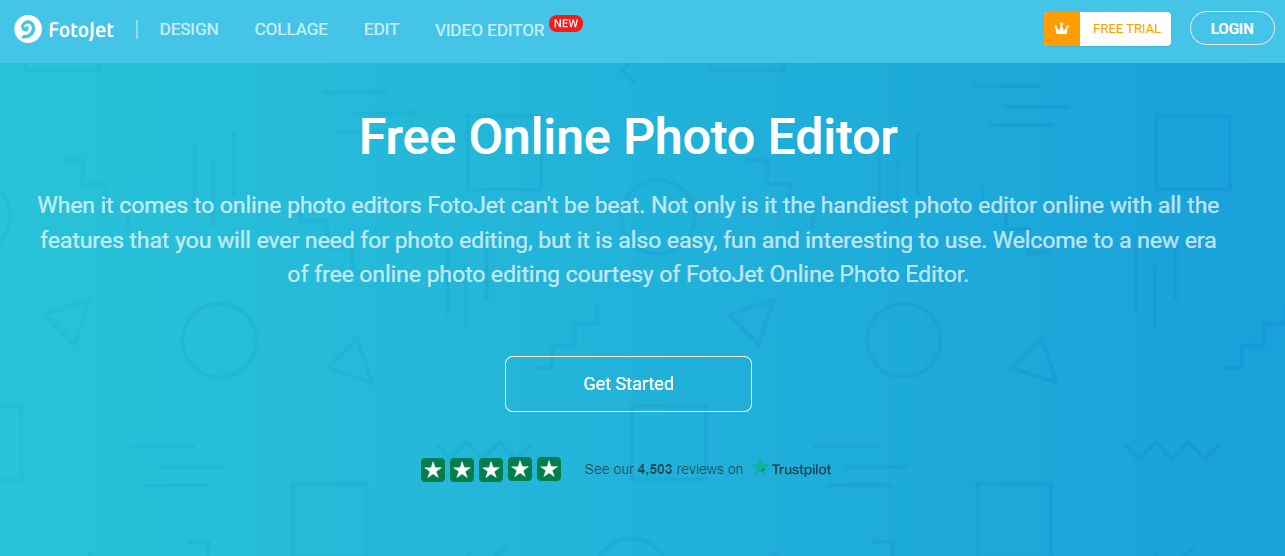 (i)  Introduction to FotoJet photo enhancer
Fotojet is another solid online photo enhancer free that enables users to enhance the quality of their images effortlessly. With its advanced AI technology, it swiftly removes artifacts and enriches the visual appeal of your photos. By utilizing this top-notch photo enhancer, you can elevate the resolution of your pictures by 2x or 4x, resulting in outstanding quality.
(ii) Pros and Cons
Pros:
Effortlessly enhance photos online for free
No watermark, ensuring your images remain pristine
Comprehensive tool for removing artifacts and enhancing quality
Utilizes AI technology for impressive results
Cons:
Limited customization options compared to desktop software
Relies on internet connectivity for usage
Not a dedicated tool to enhance photos online for free
May encounter occasional performance fluctuations
V. My Heritage
(i)  Brief description of My Heritage online tool
My Heritage is a powerful photo enhancer online free that utilizes AI technology. With a focus on upscaling old and historical photos, it can bring clarity to blurry parts and enhance color photos. By signing up, you can experience the remarkable transformation of your cherished memories.
(ii)  Pros and Cons
Pros:
AI-powered photo enhancer online free
Enhances old/historical photos with blurry details
Equally effective on new color photos
Cons:
Requires signing up to access the tool
Limited to enhancing photos, not editing them
Some advanced features may be available only in premium versions
More focused on unblurring old photos rather than photo enhancing
Conclusion
In the end, the availability of AI photo enhancer online free tools has revolutionized the way we enhance and transform our photographs. The five tools discussed in this article offer impressive features and functionalities that can elevate the quality of your images effortlessly.
However, if you are looking for an unparalleled experience,  we highly recommend trying out HitPaw Online Photo Enhancer. Moreover, the good thing is that if you are an Android user, HitPaw AI Photo Enhancer App is also available. So, you can enhance your photos on the go.
Even better is that these tools combine advanced AI algorithms with user-friendly interfaces to provide exceptional photo enhancement results. Give them a try and unlock the true potential of your photographs with HitPaw's photo enhancer online free tools.