A good project management tool can make planning, executing, and monitoring projects easy. Also, when it comes to running a business seamlessly, you must use a tool to manage all of your projects.
With many features such as planning tasks, project tracking, and analytics, project management tools are very crucial for many businesses' workflows. Also, it is estimated that around 23% of organizations use project management software.
So, if you are looking for the right project management tools that help you improve your teamwork, then you are in the right place. To save your time, I have researched and listed below the most popular project management tools.
Here is the list of top project management tools:
1- ProofHub
ProofHub is an all-in-one project management and team collaboration software that is used by thousands of businesses worldwide to manage their marketing, as well as other kinds of projects effectively. 
Marketers can use ProofHub to plan campaigns quickly, manage content calendars, assign and track tasks, strategize marketing plans, communicate with team members, define responsibilities, share files, and more. 
Mentioned below are some of the core features of ProofHub.
Workflows and Kanban- Strategize each step with a drag and drop function that helps you readily manage, move and track tasks across different projects. 
Table view- Get a bird's eye view of all your tasks — upcoming, ongoing, and done along with the percentage of their progress.
Chat application- Connect with your team instantly without having to deal with those long email threads with ProofHub's one-on-one and group chat. 
Time tracker- Keep track of your team time, billable and nonbillable hours using ProofHub's timer and timesheets. 
Discussions- Have real-time discussions to plan your campaigns better and come up with amazing marketing ideas with brainstorming sessions. 
Gantt charts- Keep an eye on dependent tasks, see how they are progressing, and quickly check task dependencies.
Proofing tool- Streamline your feedback process by reviewing and approving designs and files for marketing campaigns instantly. 
Calendar view – Easily maintain an editorial calendar for effective marketing practices and streamline your publishing schedule. 
Project reports- Keep an eye on how efficient the team is in completing the projects and make future plans accordingly. 
ProofHub has powerful integrations and it is an excellent alternative to Wrike and ClickUp as it provides you with more features compared to other tools without even breaking your bank. 
2- Asana
Asana helps you manage your team's work, projects, and tasks all in one place. It comes with a great design that keeps users active and engaged on the platform. It is one of the most popular project management tools that is used by millions of teams across 190 countries.
From small work to the big stuff, Asana helps in organizing work in order to let the team know what to do, why to do it, and how to get it done. You can enable the list view to see which task is on priority, deadline date, and execution team member.
Apart from the list, you can also visualize your work in boards, timeline, and calendar, as you want. With this software, you can manage your projects from start to finish with every detail such as task assignees, start and due dates, notes, project briefs, and attachments.
For better communication, Asana allows you to comment directly on tasks, or you can also send private messages to teammates. Moreover, you can also create a separate space for all team conversations and announcements.
Asana enables people to connect with other tools through hundreds of free 3rd party integrations like Google Drive, Slack, and Dropbox. Also, it comes with both Android and iOS apps.
With the Reporting feature, people can see and track work with ease like checking project status, completion date, team members progress, and missed due dates. Asana also comes with hundreds of ready-to-start project templates for the marketing, operations, and design team.
3- Trello
Trello comes with a basic but very easy-to-use project management system to track all your tasks. Also, it is a Kanban-based project management tool that comes with colourful boards. With this tool, everything is laid out using boards, lists, and cards.
Most SEO agencies use this tool to give direction to the team members in order to create excellent content and what actions need to be taken to boost search engine optimization growth of the client's websites.
It allows you to create separate boards for different types of work, projects, or different teams. This is very useful, especially when you have multiple projects going on as it overcomes confusion.
Trello provides seamless integrations with the tools that you use on a daily basis such as Gmail, Outlook, and Dropbox. It also offers no-code automation using Butler that allows you to create a process with automated rules.
The best part of Trello is that it comes with in-built project templates for many projects like design, sales team, and customer support templates.
Moreover, you can use colour codes labels for work organization and can also attach pictures and files on boards or tasks. Also, Trello offers a unique sharing link for every card, or users can also embed the cards.
4. Evisio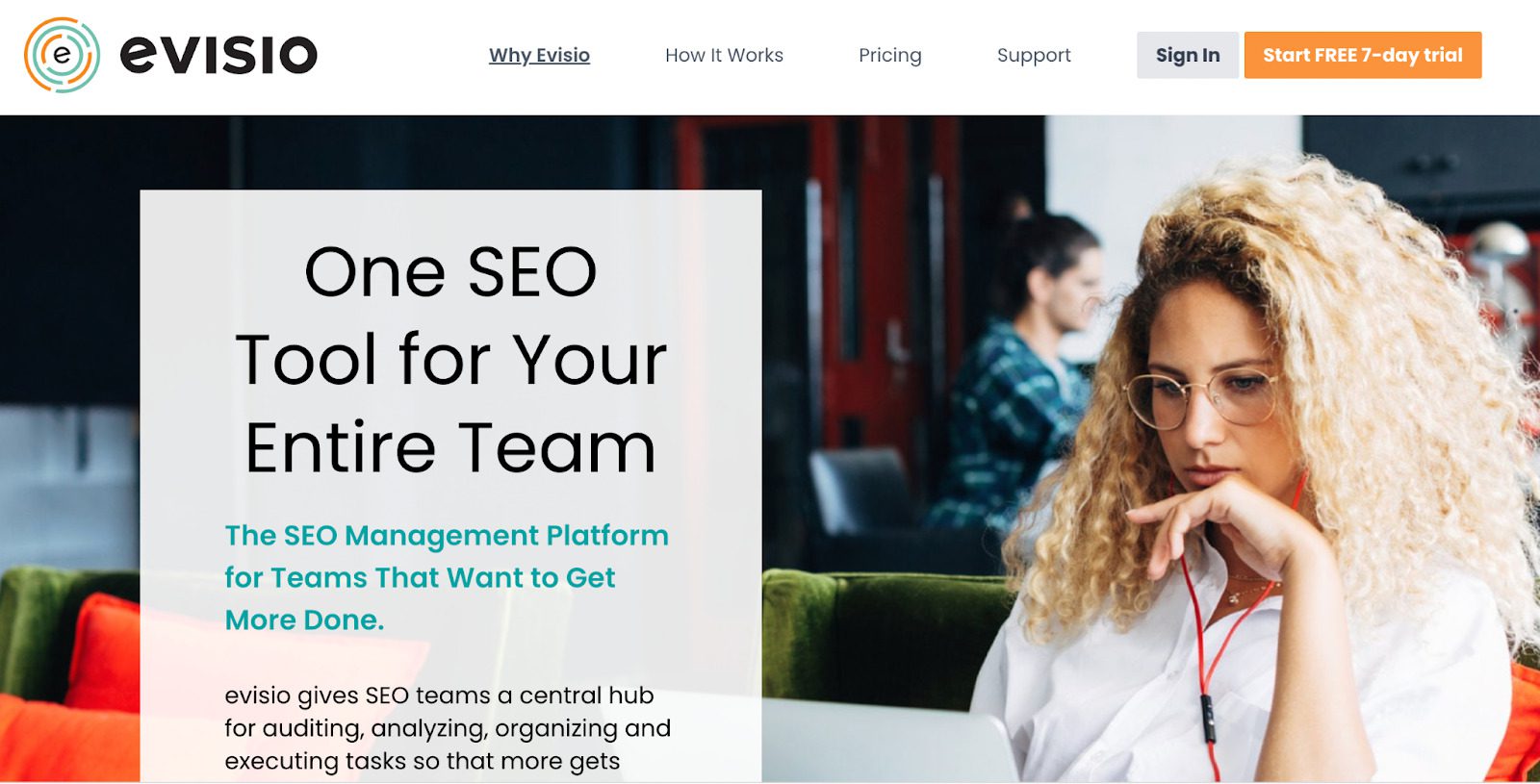 Evisio is an all-in-one SEO management tool that automates and organizes all the moving pieces for SEO consultants, agencies, and in-house teams. It provides SEO teams with a central platform for auditing, analyzing, organizing, and executing tasks with improved productivity, efficiency and accuracy.
Evisio is a complete SEO project management tool that comes in handy with the following features:
Aggregates Data:

Evisio's platform syncs with Google Search Console, Apps, and other SEO tools to have all the information in one place.

Provides Transparency:

The platform provides transparency to its stakeholders and clients by giving real-time data of the ongoing SEO by adding each client/stakeholder to the account and sharing progress reports for each client.

Supports Teamwork:

To save time and effort for SEO team members, Evisio has created an integrated system where all the team members can work simultaneously on the same or different projects.

Promotes Team Management:

After successfully conducting an SEO audit, Evisio generates a report of the prioritized list of tasks, and you can assign, track and complete tasks from there.

Provides Insights:

Evisio provides time-to-time insights into your progress, stating what's working in your favor and what needs improvement. The reports can be shared with clients and other team members.
Bonus Tools
5- Wrike
Wrike is a well-known project management tool that is used by top brands like Ogilvy, Siemens, and Nickelodeon. It also allows users to sync tasks or milestones from iCalendar, Google Calendar, or Outlook.
It offers a Gantt view feature that allows you to create charts to visualize a task's progress and keep everyone on the same page. Like other project management tools, here you can also integrate with your favorite tools.
With purpose-built templates, you can speed up your projects like product delivery, event management, and competitor analysis templates. Write also comes with in-built online employee time tracking software that helps in the project process to avoid delays. 
Wrike offers a powerful project reporting tool that helps you get real-time updates on projects. By using it, you can check every detail across your organization like who is working on which task, how many hours are invested, due dates, and delays.
Conclusion
Finding the right tool for project management is not easy, especially when you have hundreds of great options. All of the above tools are great in terms of usage, features, and flexibility. You can choose any of the above software to easily manage your projects.