As play-to-earn gaming grows, gamers can find unique ways to earn both in-game rewards and real-world financial returns. Three prominent projects that have successfully taken advantage of this model are DigiToads, Tamadoge, and Axie Infinity. All three are built around different cryptocurrencies and present players with a fresh, innovative experience with their own financial incentives.
DigiToads is a new player in the crypto gaming scene, but it has already made a name for itself. DigiToads is a meme coin with gaming elements that lets users earn rewards by participating in its web3 game ecosystem. 
The game is in a virtual world where players can explore different environments, collect items, and battle others. DigiToads' reward system includes in-game rewards where the top 25% of players are rewarded from the prize pool, on-chain trading competitions where winners get Platinum Toad, NFT staking, and many more. 
Besides its entertaining elements, TOADS is a deflationary token, distinguishing it from the rest of the meme coins. Supply of TOADS is permanently reduced by an in-built mechanism that destroys 2% of the tokens from each transaction.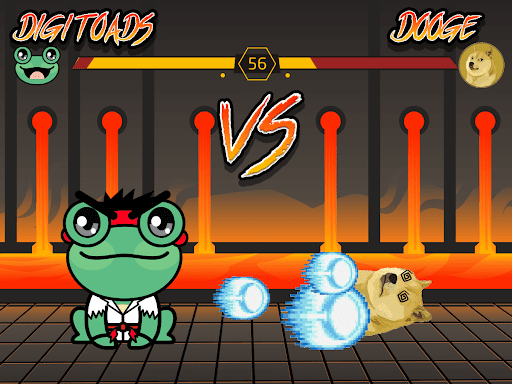 Notably, unlike most meme coins, the DigiToads team is not anonymous. They reveal themselves on the official website and once again prove that the project has the backing of blockchain development experts. 
DigiToads has already acquired an audit from Coinsult, which adds another layer of security to the project. 
Considering all these benefits, it's easy to see TOADS presale will be one of the most sensational events of 2023.
Tamadoge 
Tamadoge is another one of the most keenly awaited meme coins in 2023. This token seeks to blend the somewhat popular aspect of so-called dog coins with the possibilities of play-to-earn-based items. 
Tamadoge's central goal is to provide a fun and rewarding environment where users may engage with a virtual pet they can gather, breed, combat, and otherwise personalize. As players advance through the game, they earn Dogepoints that they may redeem at the end of each month for free tokens of the meme cryptocurrency TAMA. 
Besides collecting tokens and winning rewards through in-game games, players can also spend TAMA tokens to buy virtual goods within the game world.
Axie Infinity
In Axie Infinity, you lead teams of adorable monsters known as Axies into combat against one another. The game is developed on the Ethereum Network with a sidechain called Ronin, which reduces transaction fees and speeds up the process. Its main feature is turn-based fights against AI-controlled Axie teams or real-life players across the Internet. 
NFTs, or non-fungible tokens, are used to represent in-game objects. These cryptographically-unique tokens can represent a claim on digital material, such as Axies and land plots in Axie Infinity. Unlike conventional in-game commodities, the NFT grants ownership to the purchaser. Also, Axies can be traded for real money on the game's marketplace.
Final Thoughts
Play-to-earn tokens are the latest craze to hit the gaming industry. Not only do they give gamers more control over their gaming experiences, but they can be used to earn real money through in-game transactions and rewards. 
DigiToads, Tamadoge and Axie Infinity are some of the most popular play-to-earn games, offering users the chance to make real money by engaging in the fun web3 ecosystem.
For More Information on DigiToads visit the website, join the presale or join the community