Cordial is a cross-channel marketing platform that delivers personal messaging. And when they say personal, they don't just mean personalized. The company enables brands to use customer data to deliver actual personal, relevant and emotionally intelligent messages and can create long-term relationships with every customer. Cordial CEO and Founder, Jeremy Swift shares what it really means to be personalized in this exclusive interview with TechBullion.
Tell us about Cordial. What is it and who uses it?
We founded Cordial in 2014 to provide marketers a next-generation email marketing platform powered by real-time data. Since then, the channels of communication have expanded across the digital atmosphere. Customers want to engage with brands in more direct ways like through text, or chat or through the company's mobile app.
So Cordial has evolved into being a robust cross-channel marketing platform that brands can use to connect with customers on a hyper-personalized level. To get there, we collect all the unstructured data a client may have on their customers and use it to drive emotionally-intelligent messaging. 
Cordial is really for customer-obsessed brands, or those that are ready to start that journey. Our clients run the gambit from fashion and apparel brands like Revolve, to home and lifestyle brands like Purple, health and wellness brands like Ancient Nutrition, media and publishing brands like Forbes, and much more. 
Can you expand on what you mean by unstructured data and how Cordial uses that data compared to other platforms?
Oftentimes, as eCommerce brands grow and connect with thousands of end-users, they end up bringing on more and more tools that collect and analyze consumer data for specific marketing purposes. The problem is that these brands end up having a profoundly unorganized, segmented view of their marketing, business and customer data. This causes a lot of disjointed and inconsistent customer experiences.
For instance, one client we worked with was using three different platforms to communicate with their customers. One solution sent batch emails, the other sent automated messaging, and yet another was used for transactional communications. Each platform not communicating with the others. All of the data was stored separately. It was not only a headache for the marketing team, but created discrepancies in the customer experience. 
Cordial fixed that. We not only have the capability to collect data, we allow clients to organize—or structure—and use their data wherever it lives within their technology stack. 
With Cordial, the client switched to one platform for their marketing messages and delivered a much more cohesive and engaging experience for their customers.
So, in other words, Cordial makes it extremely easy for companies to automatically pull data in one place and use it for better messaging. No one needs to import any Excel sheets or use disparate systems. It's all integrated into the data platform so clients can focus on creating cross-channel messages that are more personal and intimate to the end-user. 
What kinds of data does Cordial collect and how do you use it?
The potential for data sources is virtually limitless. We can gather data from POS systems, IoT products, mobile apps, beacons, websites, product inventories, CRMs, customer data platforms, the list goes on. The Cordial platform then uses the real-time feeds from these systems to activate data, as we call it, into insights that marketing teams can actually use.
Here's a scenario to put that in perspective. 
Imagine you're an online retailer struggling to increase sales conversion rates. Visitors are browsing your website, wishlisting items, adding one or two things to their carts, but sales are still down.
With Cordial's data platform, you can start seeing when and where that cart abandonment is happening and on what platforms. You can also monitor the performance of your triggered abandonment emails. And then you can get even more granular. 
Now you can better segment the audience, which Cordial can do automatically depending on how you tag and label data, and orchestrate a messaging campaign. 
Seeing a large segment from northern, mountainous states? Trigger automated email and SMS messaging in October that reminds customers to bundle up for the winter with the coat from their wishlist. And when the user goes to your mobile app, send them an in-app message that lets them know your new winter collection is launching. With this sort of relevant messaging, customers are more likely to engage, convert and commit to your brand for the long haul. 
Can you expand a little more on how cross-channel messaging creates a more intimate shopping experience for the end consumer? 
Cross-channel messaging allows you to reach customers across multiple channels at different times in their journey. Personalization across those channels is becoming increasingly important. That's no secret. But the term is usually in reference to groups of customers at the same point in the journey or who share a qualifying demographic. It's about segments, not so much the actual customer. It's not intelligent.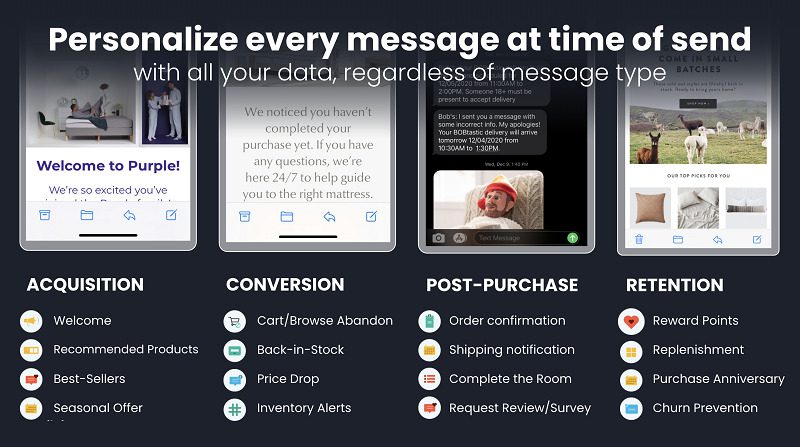 Cordial allows companies to use their real-time data to send messages that are personal, or unique, to the customer. A great example of this is our client,  a major publishing network of entertainment sites for horoscopes. Cordial allowed them to take all the subscriber data they had on hand, combine it with astrological events, and trigger highly personalized daily horoscopes.
Why use Cordial over other email-marketing platforms? How does it create a better customer experience?
We've helped clients achieve triple digit revenue growth—up to 250%—in just 30 days. That's because Cordial is more than an email marketing platform. We're cross-channel and use a robust data platform that gives companies the ability to leverage all of their data and communication channels. 
Because of this, companies can react to customer behaviors quickly and engage them on their most-used channels. Most of the time, if you want a user to complete an order, one email isn't going to cut it. Cross-channel messaging gives the user multiple opportunities to re-engage with your brand.
Cordial is all about increasing a sense of brand community, too. Customers are more apt to feel like a member of a tight-knit group when the company can use granular data to connect with them on a more personal level.
What other kinds of results do brands see when they use Cordial?
When Revolve first partnered with us in 2017, they saw a tremendous increase in engagement rates and revenue. Within the first 6 months, they launched 19 new automated campaigns based on their newly consolidated data. These messages were entirely automated and personalized based on behaviors like cart abandonment, birthdays, and other profile data. Even though these types of messages accounted for a small percentage of all emails sent, they generated 20% of Revolve's total email revenue. In fact, the company maintains an average order value of $279, which is nearly three times the industry average.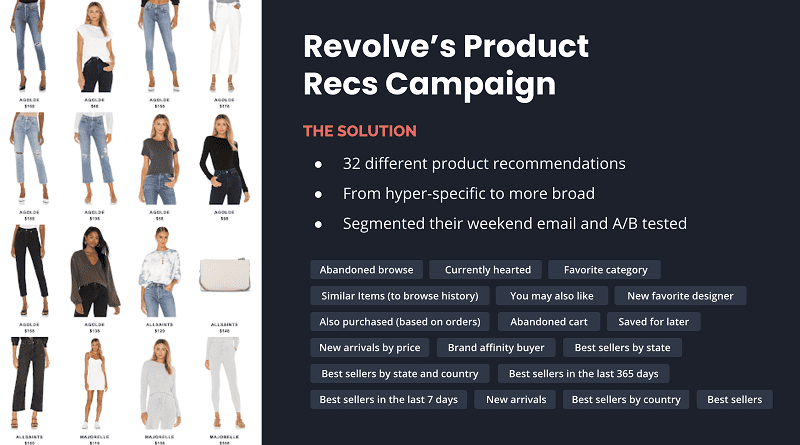 Another client, a sports equipment manufacturer called SKLZ, needed to transition to a more digital-first strategy. They partnered with us to collect deeper customer insights and within 30 days were able to create new triggered lifecycle messages that led to a 760% increase in email revenue and 59% increase in average order value.
What is your vision for Cordial over the next three to five years?
Outside the eCommerce space, we see a growing digital evolution in the healthcare, telehealth, and HealthTech spaces where providers and device manufacturers will need to tap into more empathetic marketing strategies and combine this with robust data analytics and automation. The travel, hospitality, and quick-service restaurant industries are going through digital transformations, where we see a need for personalized messaging fueled by real-time changes in customer behavior and business data.

The next generation of cross-channel marketing is not just about a platform that automates this and machine-learns that. It's about human connection. We want Cordial to lead the way in intelligent messaging that uses data and authenticity to drive longer-lasting relationships between brands and their customers. 
For more information, visit the website: https://cordial.com/