The e-commerce world has witnessed a paradigm shift from a channel of doing business to people investing billions creating platforms that can help them assert digital dominance. With increasing competition and ever-increasing consumer expectations, the e-comemrce marketers and decision makers are investing heaviliy in technology that provides them a competitive edge. 
But,before we move towards technology trends that will assert their dominance in the future of e-commerce, let us first understand more about the benefits of having a technologically advanced e-comemrce platform that aligns with customer expectations and industry standards.
What are the benefits of ecommerce?
With so much of the modern world now operating digitally, it's no surprise there are numerous benefits to ecommerce. These can be divided into three categories; operational, administrative and monetary:
Operational benefits of ecommerce
Businesses can reach a global audience without the need to establish physical stores or branches in different regions.

Customers can easily find the business online and purchase at the time and place of their choosing.

The business becomes 24/7 without the need for operational staff or sales representatives.

You can serve each customer with personalized products or services with the help of the right data.
Administrative benefits of ecommerce
No need to establish a huge customer care team or order management team as these business functions can be automated if you have the rightecommerce platform in place.

By automating a number of processes, you can reduces administrative costscompared to conventional brick and mortar businesses.
Monetary benefits of ecommerce
Without the need to setup physical premises, ecommerce businesses can save significantly on capital expenses.

24/7 business means increased sales opportunities.

Personalization and other such cross-selling techniques can boost sales and conversion rates.
ECommerce- the ultimate growth hack:
With the growing competition in the market, more and more businesses are opting for online business models or hybrid business models to overcome the growth challenges of the conventional business models.
Whether you want to increase your business productivity or sales or efficiency, you can do it in the least possible time, effort and cost with the help of eCommerce platforms. Also, if you have the right marketing and technology partner, setting up eCommerce channels and online marketing is not that difficult and thus, more and more businesses opt for online sales every day!
Now that the benefits and scope of e-commerce platforms are defiend, letwe can move to the next step and that is, if you opt for eCommerce in the year 2022, what are the trends that you need to keep in mind?
So, based on consumer expectations and the latest industry innovations, below are the technology trends that you must integrate in your eCommerce platform to stay ahead of the competition curve.
2022 eCommerce Technology Trends that businesses must integrate for a future-proof business: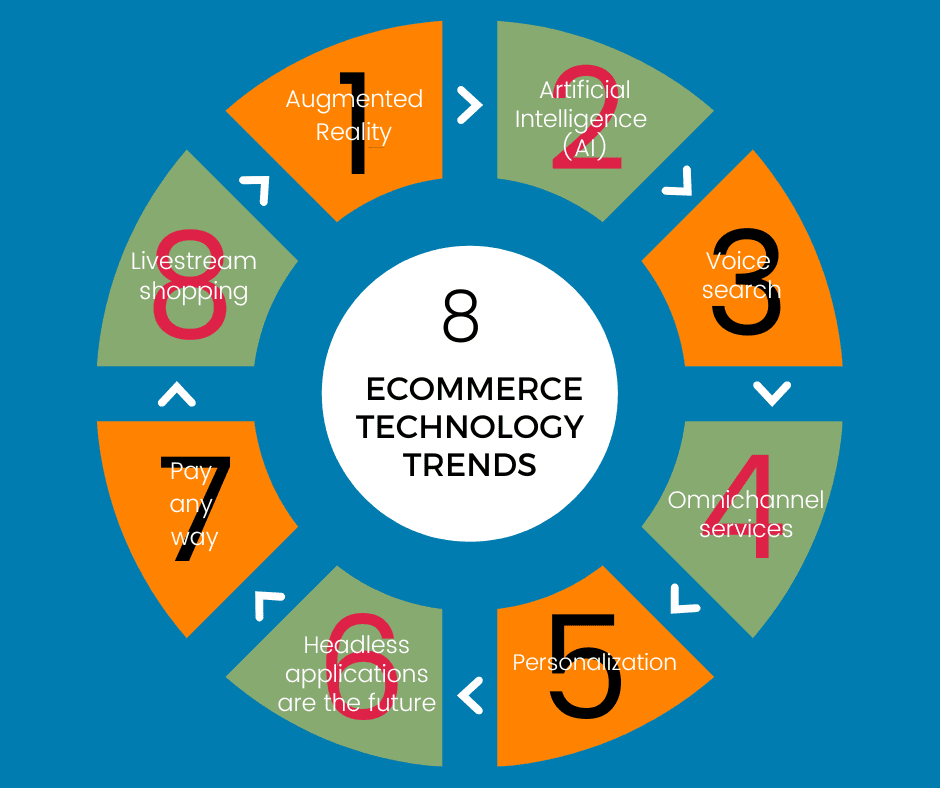 Augmented Reality:
Content is the king in marketing currently and Augmented Reality is the most interesting form of customer engagement that has overcome the eCommerce industry. Many such eCommerce giants have introduced Augmented Reality to their platforms to deliver a realistic experience to their customers. 
From lenses to try the shoes virtually to Augmented Reality mirrors that can help customers put on clothes and make-up virtually, eCommerce platforms have adopted Augmented Reality to deliver an immersive experience about their listed products to their customers. While the customers get a realistic experience and an ability to make a better informed decision, eCommerce giants get a chance to deliver a personalized experience to their customers and gain a loyal customers for their platform.
Artificial Intelligence (AI):
From the complex algorithms of social media platforms that use AI capabilities to understand the user preferences and behaviour to better target advertisements to the use of AI to conduct a conversation with the customer via a Chatbot or the use AI to understand the user footprint, the applications of Artificial Intelligence in the eCommerce industry are endless!
Although there are currently many such applications, we are still scratching the surface when it comes to AI and its applications for the eCommerce industry. Right from streamlining and automating your business processes to using data to understand consumer behaviour and gather relevant data for product development, AI can be used in almost all aspects of an eCommerce business.
Voice search:
Voice searches will become one of the most important aspects of eCommerce in the near future. This is because, with the development of voice search and voice assistant technology, customers are inclining toward voice commands and voice searches. From using Google Assistant on their smartphones to using Amazon's Echo and Google Home for smart orders and commands, technology giants are betting big on the NLP (Natural Language Processing) technologies. 
There are even many eCommerce giants that have integrated voice search and voice assistants on their platforms. Apart from that, with the increasing voice searches on Google, your platform must be optimized with the NLP search criteria.
Omnichannel services:
In marketing, there is a saying that to succeed leave no stone unturned. Following this philosophy, along with online graphic design software and video editors to create transition videos, another phenomenon that has taken marketing by a storm is omnipresence or omnipresent marketing.
Similar to leaving no stones unturned for marketing omnipresence, eCommerce businesses are also catering omnichannel sales services to their customers. Whether you want to order from a Website or mobile application or via WhatsApp, businesses are providing all the convenience to their customers. There are even businesses that are selling via social media platforms like Instagram store and Facebook marketplace. 
Personalization:
If you look closely, all the trends that we have discussed till now have personalization in them in some way or other. While some provide personalized experiences, some help in understanding the customer behaviour on a micro level to provide personalized suggestions. Similarly, there are certain eCommerce domains like apparel, automobile, gifting and others that also provide product personalization capabilities to their customers.
With the help of a user-friendly online design tool integrated into their eCommerce platform, they empower customers to design their products and get custom products delivered to them. This online graphic design tool is used by many graphic designers, businesses and customers alike to get various products like T-shirts, cars, cups, gifts, cards, labels and other such things personalized for different purposes. 
Along with that, there are also eCommerce platforms that enrol online graphic designers to collaborate with them, use the online designer software and create a unique line of products for their customers. These collections are often sold as a limited edition to the customers on a premium.
Headless applications are the future:
If I were to ask you the major reasons why businesses are using Personalization on their platform, what would it be? Well, the answer would be customer engagement and customer retention. The online business works on the principle of a customer-centric approach and another technology trend that enables optimum customer engagement is headless applications!
Headless applications are such platforms where to align the platform with the ever-evolving customer expectations and the frequently changing market trends of the user interface, eCommerce development service providers are creating headless applications where developers can change the front-end of the platform without it affecting the functionality and the architecture of the backend of the platform.
Pay any way:
Gone were the days when eCommerce platforms required credit cards to make a transaction online. Nowadays the trend is to provide convenience to customers and enable them to pay the way they want to. Whether they want to pay later with the help of digital wallets or they want to pay on delivery or just pay in partial instalments commonly known as EMIs, the eCommerce platforms are giving their customers all the freedom to choose their convenient method of payment.
Livestream shopping:
Customer engagement is a thing that marketers have targeted the most and another marketing gimmick or we could rather say an interesting form of guerrilla marketing that has overcome the eCommerce industry is the Livestream shopping carnivals! 
In this trend, for various sales or festivals that eCommerce platforms announce over the year, to gain optimum traction from the customers, they are now enrolling social media influencers or other celebrities from the entertainment industry to become the host of the event and Livestream the shopping with other customers.  
It all boils down to convenience and personalization:
If I were to derive the highest common factors in all of the above-discussed technology trends, the 2 factors that would define all these trends are convenience and personalization. The reason for this is simple, the more engaged a customer feels and the more convenient it is for them to make the transition, the more likely it is that they would make the purchase.