In a world of immediate gratification, where self-esteem is measured in Instagram Likes and Twitter retweets, who has time to eat right and go to the gym? Wellness is hard, but 1AND1 Life might have the right formula for Health and Wellness success. The platform simplifies healthy purchasing decisions. But, can it do more? The CEO and President, Corey L. Lewis and TDrew (Thomas Drew), give us their vision for combining tech, and wellbeing in this exclusive interview.
1) What inspired the creation of 1AND1 Life? 
https://www.instagram.com/p/B0eQmN4jaST/
TDrew: The wellness space is always changing with new supplements, fad diets, exercises, and activewear. The list feels endless. Whether it's an ad or an influencer, it feels like everyone is pushing what they think will benefit your overall wellbeing. The problem with this is it leaves you feeling overwhelmed, confused, and no closer to making an informed purchasing decision that you're comfortable with. The opportunity to provide a simple space that makes wellness purchasing decisions easier through community and content is what inspires the 1AND1 Life brand.
Corey: Anyone who has tried to lose weight or get in better shape knows that there is no one-size-fits-all approach to wellness. As a trainer,  clients will often come to me asking about a new fad diet or some other health trend that promises quick results. The mix of information out there, some false and some right, can be hard to understand.  
When your workday revolves around stressing over the market and long hours sitting, you don't have time to become an expert in wellness too. But, health, fitness, and wellness are so important, and we wanted to make it completely accessible. 1AND1 Life is a credible and unbiased platform that takes a more holistic view of health and fitness. 
2) Please tell us a little about yourself and your background?
Corey: I'm Corey Lewis, CEO and co-founder of 1AND1 Life. Before that, I played Offensive Line In both the NFL and the Canadian Football League. My professional football career was cut short after four ACL surgeries and seven knee surgeries. Despite the injuries, my passion for health and fitness never once dropped. After years of college and professional football, my love for fitness eventually developed into the 1AND1 Life vision.  
TDrew: Hi there, I'm Thomas Drew, President and co-founder of 1AND1 Life—I kind of adopted the name "TDrew" my freshman year of college, and it's stuck ever since. Growing up, I always felt self-conscious about my body, wasn't in great shape, and struggled with isolation and depression. Once I discovered basketball, physical fitness and positive mindset training, everything changed. I realized exercise was my stress release, and that improving my mental health came down to changing my habits in a positive way. This is where my passion for wellness was born. 
Back in 2017, I was in my MS program at Columbia University studying high-level Brand Strategy and Marketing. It was during this time that Corey and I co-founded 1AND1 Life. We wanted to disrupt the wellness space by creating and publishing valuable content in a modern way, while building an awesome community.
3) Tell us more about 1AND1 Life, what services are you bringing to the market, and how does it work? 
Corey: The 1AND1 Life platform offers two main solutions in one online destination. On our website you will find product reviews, blogs, and opinion pieces that cover every Wellness vertical for men and women: Athleisure & Activewear, Vitamins & Supplements, Nutrition & Recipes, Fitness Equipment & Wearables, and Beauty & Meditation. The other solution is an E-Commerce marketplace, where we will offer a curated selection of Wellness products from the best brands available. Product curation and offering will be based on quality, sustainability, performance and brand ethos. We are continuing to build out the e-commerce side of our platform and are looking to begin to offer wellness products from selected brands in 2020. 
TDrew: Exactly, the whole point of 1AND1 Life right now is to provide unbiased and easy-to-digest information to inform and simplify purchasing decisions in the world of wellness. We do this by creating great content and working with a team of vetted wellness and fitness experts. When we do get to the point of selling curated products directly on the site, the selection of products will be the best of the best.
4) 1AND1 Life is a wellness lifestyle platform and brand, Can you talk about what health and wellness mean to you and how that drives development? 
TDrew: Wellness is all about being the best version of myself — mentally, physically and spiritually. When I feel optimal, I am able to inspire and motivate other people to become their best selves as well — which is what's most important to me. With the spotlight on healthtech more than ever, wellness and technology are not trending together and not separately. An example of this is Cure.fit's initial round of funding. The health and fitness company based in India raised $15 million in funding before the platform even launched.  
The increasing awareness toward holistic wellness and the shifting technology/Ecommerce landscape is what drives the development of the 1AND1 Life platform. In a landscape of overhyped wellness promises and seemingly quick-fix fitness solutions, myself, Corey and the team have a responsibility to spread accurate information. Our brand is about the truth in wellness, and making it accessible to all via content and product offerings. 
Corey: Health, wellness, and fitness are at the core of every decision at 1AND1 Life. There is a huge need for unbiased information. With healthcare costs skyrocketing in the U.S, the American economy is feeling the effects of a lack of education when it comes to living a healthier lifestyle. 
According to the Centers for Disease Control and Prevention (CDC), chronic diseases account for about 75% of the nation's healthcare spending. Poor lifestyle choices like eating junk food, long hours sitting and smoking are massive contributors to the development of preventable chronic diseases like type 2 diabetes, hypertension, and cardiovascular disease. American's sit more than they ever have throughout history. Sedentary jobs have increased 83% since 1950. All that inactivity has a substantial effect on your health. 
Leaders in technology and digital platforms have the power to make a shift in society and supply people with the knowledge to improve their health and fitness. We aim to do this in a way where our target market feels understood via our communication.
5) Tell us about the current market size and trends in the wellness industry?  
Corey: The global wellness market is estimated to reach $4.75 trillion this year. In general, people are more aware of their health and are spending more money on wellness—especially Millennials. When we talk about wellness, we're not just talking about physical and mental wellbeing. There are other elements of wellness, like social, emotional, and financial wellness. More than 20% of Americans would prefer to go to the dentist or the DMV than chat about their finances. 
This year we've seen significant wellness trends on the rise like personalized nutrition, workplace wellness, on-demand home fitness, wellness tourism, and nutrition/workout plans generated via artificial intelligence.  
TDrew: I agree. Many trends in the wellness industry will come and go, but some certainly will stick around. We've continued to see a rise in wearables, and the in-home fitness revolution will no doubt carry on well into 2020. You have the likes of Peloton, NordicTrack, and Precor competing in the billion-dollar home fitness equipment market. 
6) How is technology impacting the wellness industry? 
TDrew: Wellness is present in almost every industry, and technology is furthering its reach. From healthcare and financial services to energy and mental health, we're seeing things like sleep wearables and sugar replacement startups using biotechnology. The health and fitness industry has massively transitioned with digital technology and social media, which is often now at the heart of marketing. Wellness brands have the opportunity to reach an audience like never before.  
Corey: Like in any other industry, technology has a considerable impact on the wellness industry. Tech innovations seem to grow at an unprecedented rate and influence almost every part of our lives. Many elements of the wellness movement are becoming increasingly tech-enabled. 
7) Who are your top competitors in the wellness industry? 
Corey: As both a lifestyle brand and community, we have a few different competitors. We run an e-commerce platform, so we're up against some pretty big players in the wellness industry. As we move towards a curated online marketplace, we'll compete directly with websites like Goop, Bandier, bodybuilding, Prozis and others. 
TDrew: On the blog side of things, you have sites like Well + Good, MyFitnessPal, and The Everyday Man. We're competing against leading online digital platforms and publications, but our total solution combining our ECommerce offering for men and women is something that we look to dominate. 
8) Could you tell us more about the team at 1AND1 Life? 
Corey: "Surround yourself with a loyal and trusted team." Those words perfectly sum up the team at 1AND1 Life. Our team is diverse and brings together experts from a range of fields. We have fitness, nutrition, and health/wellness experts. TDrew brings his years of marketing and brand-building experience and expertise to the table, having led initiatives with big budgets for brands like Samsung, The U.S Army and more. 
TDrew: Our CFO is an avid athlete with a mechanical engineering background. Our experts have degrees in exercise physiology, nutrition science, human biology, and more. The team has a ton of combined skills and knowledge. Most importantly, everyone on our team is a good person. I'm big on minority representation and making sure that we continuously have women in positions of power within our corporate structure. This is something that we will continue to be mindful of when adding to our corporate team at 1AND1 Life.
We incorporate mindfulness and wellness practices into our business. As we expand, workplace wellness, as it pertains to employee morale and productivity, will be our top priority.
9) What can we expect to find on the 1AND1 Life website?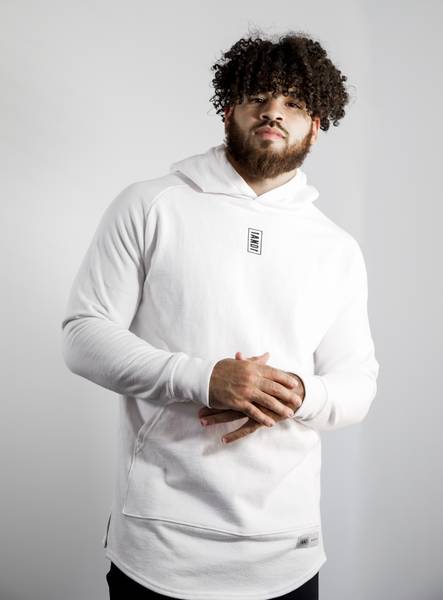 TDrew: We have incredible investors in the tech sector who are driving the success of the project. It's because of them that we can build a brand and community using the latest e-commerce and digital technology. On our website, you can find honest and unbiased buying recommendations, our blog, expert opinions, and premium 1AND1 Life branded merchandise. 
Corey: In our shop, you will find a selection of our premium branded products. We focus on creating and manufacturing a handful of items at a time and releasing capsule collections. We focus on quality, not quantity, and our releases are usually small in inventory. All of our athleisure is carefully crafted in Los Angeles, California, ensuring quality control.
10) Where do you see 1AND1 Life in three years? 
Corey: Although 1AND1 Life has been in the pipeline for a few years, we officially launched in April 2019. We've already had a ton of positive feedback from our community and are looking to build on that. Over the next three years, our mission is to continue to disrupt the wellness industry and be the destination and brand that people trust for all of their modern wellness needs.
TDrew: Consumers not only need a credible and valuable source of information in the wellness arena that speaks their language—they need convenience, accessibility and product offerings that they can trust.  Technology and consumer insights will continue to influence our platform and help us to take things to the next level as far as value creation for our consumers. In three years, we want everyone to be familiar with the #1AND1Way. I'm excited to make that a reality.
Contact 1AND1 Life 
Drop the 1AND1 Life team a message through our website or catch up with the CEO and President on Instagram. 
Follow us on Instagram 
Corey Lewis, CEO – @bigc1and1
TDrew, President – @tdrew1and1
1AND1 Life – @1and1life.