Introduction
Do you want to try on a new hair color but aren't sure what will suit you the best? Well, we hear ya! And we are there for you with our list of some amazing hair color ideas that will surely rock your personal style this summer!
Your hairstyle may succeed or fail depending on how well you match your hair color to your skin tone. Although there are several options available for black women, afro hair can be particularly sensitive to bleach and can quickly color damaged. The greatest hair colors for dark skin shouldn't be avoided because of this, either. You can experiment with certain hair colors that will give you an edge over others and make you stand out. So let's get started with it!
Copper Tone With Balayage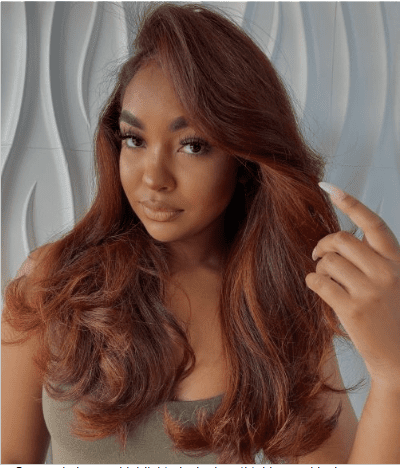 Copper balayage highlights looks breathtaking on black women
The orange-red undertones of copper are the focal point of the current metallic hair color trend.
This is a bolder option for those who genuinely want to stand out. The gorgeous, rich color of the copper will add style and appeal to your ensemble.
Blonde Balayage
                                                                    Long beautiful blonde balayage hair color
One of the most attractive hair color trends for 2023 is this long, blonde balayage hair color. This blonde is a must-try because blonde is a timeless hair color with various variations. It's a preferred option for women who enjoy playing with with color because of the transition from darker roots to lighter ends.
Auburn Hair Color With Hint Of Red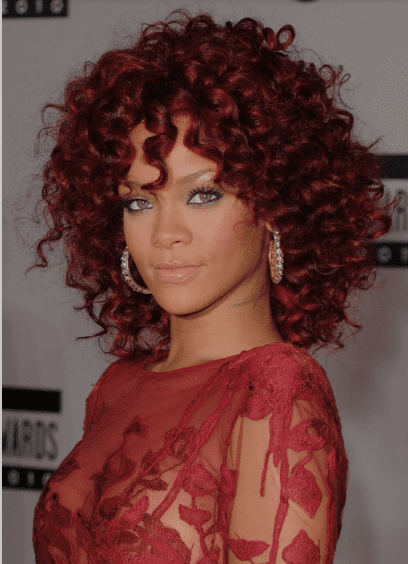 Auburn is an all time favorite hair color
This year, add auburn balayage highlights to warm up your brown hair color. According to your wishes, you can get the auburn color in thick or thin bits, but either way it will look fantastic. These two colors work well together to give your dark hair a vibrant appearance.
Dark-skinned women will stand out the most in the greatest way possible with auburn red hair. Get ready to draw attention when you wear it with any of these hairstyles – short natural hair, box braids, or straight hair weave.
Honey Blonde Balayage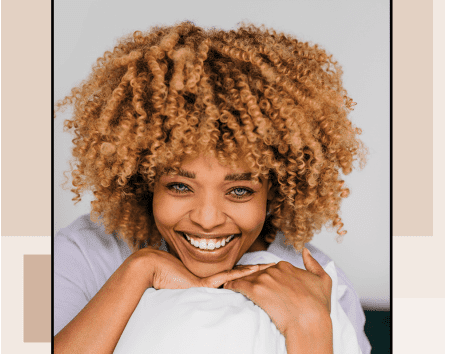 Balayage hair color trends this summer
Many people choose honey blonde hair as their hair color, and black ladies prefer it even more. Because it is neither too light nor too dark, honey blonde hair is a great hue for black women because it doesn't overpower the majority of complexion tones.
Silver Hair Color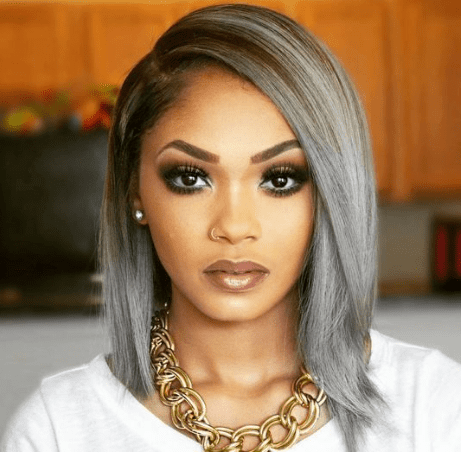 Silver hair color ideas for freshen up your look
For black ladies, silver hair colour is virtually impossible to misrepresent. Both celebrities and common people find it to be quite appealing. You would stand out because of your silver hair and dark skin.
Moreover, it exhibits wisdom, courage, boldness, and a warrior's attitude. You can experiment with silver as a fantastic summer hair color for black women.
Light Or Dark Purple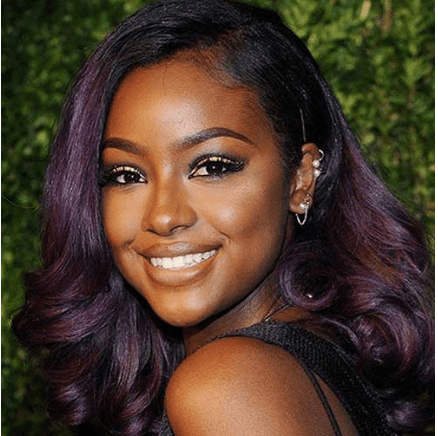 Purple is the new black 
Purple hair can help you provide the finishing touch to your artistic endeavors. Purple has a slightly feminine vibe and brightens your face, making you stand out.
The lighter purple would make you look younger and turn back the years. It also has a tendency of drawing admiration and bystanders.
You would appear more sophisticated, wealthy, respectable, and attractive all at once if you wore a darker shade of purple hair color.
Alternatively you can also go for a mix of purple and burgundy and get a balayage highlights to effortlessly blend the darker roots.
Brown Balayage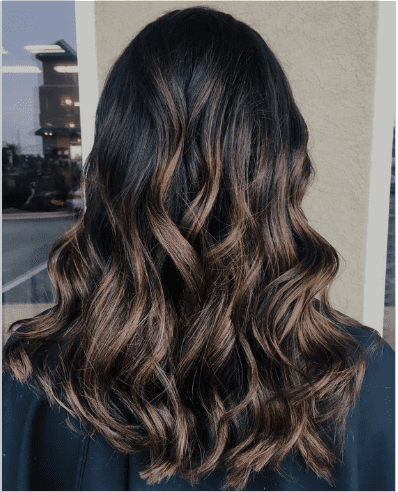 Brown balayage hair color looks effortless
This hair color is frequently worn by black celebrities, and it makes sense. Dark complexion looks best in brown tones, and the balayage hair color process is a great alternative if you don't want to dye your entire head and run the risk of color fading.
Go Pink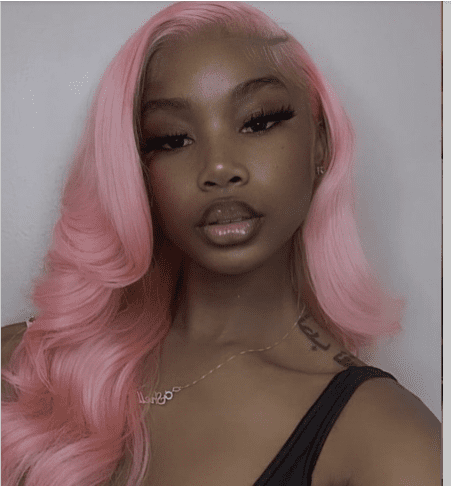 Create all the drama with pink hair color
Every woman's natural favorite hue is pink, but pink hair on black skin is a popular choice among celebrities. Yes! Whatever it touches will come to life when painted with this iconic Barbie color. It makes sense why famous people like Nicky Minaj have made it their hallmark.
Pink has a way of enhancing the beauty of the skin tone of black ladies. Both combinations make the black woman sparkle because they enhance her dark skin tone.
For black ladies, the hue pink is a must-try trend for summer hair.
Play With Colors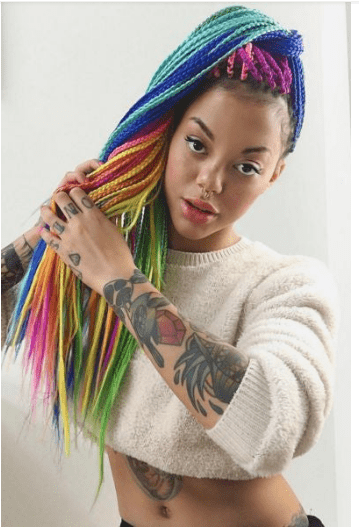 Rainbow hair coloring
If you have the patience and time, you could choose to have multicolored hair against your dark complexion. Choose a combination of your favorite colors to accomplish this. You will constantly be noticed and receive compliments.
We don't want to restrict you by offering any suggestions because there are many alternative color patterns you can choose for your multi-colored hair. To find samples, you can either do some study or use your imagination.
This look will definitely brighten up the room. The multi-color trend is the best spectacular summer hair color trend for black women because the Sun is known to reflect colors. Make it your own with a fun hairstly like corn rows or box braids.
Dark Green WIth Dark Hair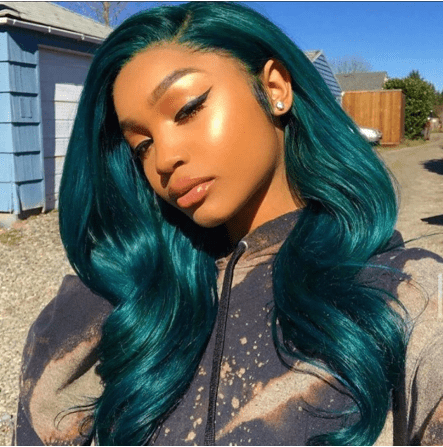 Brighten up your summer with this hair color ideas
If you want to stand out from the crowd without being overly brilliant, consider a dark green hue for your hair. Try adding colored highlights or you can even get a green balayage highlights instead of a whole head of color if you're not ready to commit, as dark green looks stunning with black hair.
Shadow Root Balayage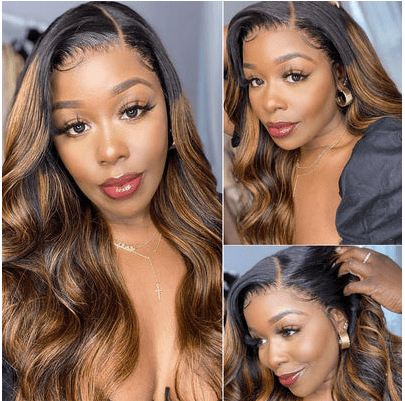 Breathtaking balayage colors
You probably already know how difficult it can be to choose a hair color that highlights your hair without requiring a lot of maintenance if you are a natural brunette. Instead of dying your entire head a different color, use shadow roots. A few quick ways to add color to brunettes include adding mid and end lights while avoiding color at the roots and adding root shadow to make it seamless.
Ask your hairstylist for advice on the best hair colors that won't require a lot of maintenance as the color you choose for the bottom may require a little extra maintenance.
Caramel Balayage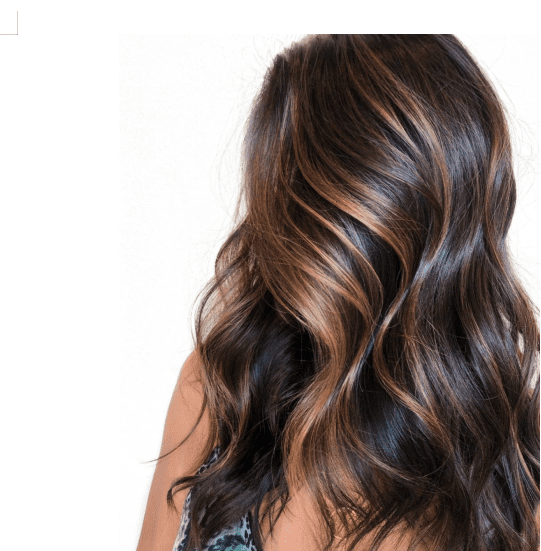 This wonderful hair color trend will give you an intriguing look with its caramel balayage contour for brown hair. When the hair is down and in different braids, the colors look fantastic. The balayage hair color procedure gives your hair a silky, attractive appearance.
Conclusion
The top 12 black women's summer hair color trends for 2023 have come to an end. We gave you several options since we believe that you'll want to experiment with various looks at various points in time.
There will always be time to test them out one at a time, so you don't have to worry about having to choose from a variety of possibilities.
And to forgo all this process to your own hair you can choose from the plethora of human hair extensions available at Indique to give you the most natural looking hair extensions and get them colored to your desired hair color to give you the exact same results.