Hydrogen water earned a reputation for its health benefits in more than 1,500

studies

conducted all over the world.

Studies were carried out in the US, Japan, Korea, China, Serbia, Mexico, Germany, and Slovakia 

1008 is a brand of hydrogen water with plans to disrupt and elevate the water market by offering a new and fresh alternative to hydration.
The water industry is a booming market, and something that will always be in demand. When looking at the various ways water for drinking purposes has been obtained, bottled water is still America's most packaged beverage. According to recent statistics for 2021, the bottled water industry will reach over $70 million in the United States, and per capita consumption is estimated to reach 178.7 L in 2021. These figures are predicted to increase by 8% in the next four years. 
With that said, as water remains an increased global demand, specifically bottled water, companies like 1008 offer a fresh new perspective on this age-old life-giving fluid, an alternative to the water industry and how people choose to hydrate. The US-based company creates conscious awareness around the effect water has on our bodies, especially for active individuals like themselves. 
What is 1008 Hydrogen Water?
1008 Hydrogen Water is owned by Adriana Steverson and Brooke Duplechain, who started the water brand from an idea they had when they discovered the anti-aging benefits of hydrogen water and its rising popularity in Japan. Their inspiration to bring this type of water to the states rode on the current of their desire to share it with their peers back home and spread the word as much as possible. 
The team at 1008 isn't only providing fresher water to drink, but infusing their water with a fresher attitude, leveraging its life enhancing qualities. They bridge the gap between science and the sacred by applying the power of intentional numerology, stating that, 'the standard atomic weight of hydrogen is 1.008 and angel number 1008 signals support and encouragement, asking you to only think positive thoughts regarding wealth, abundance, and prosperity'. 
But for those who also want the science: a water molecule is composed of one oxygen atom and two hydrogen atoms; hydrogen water contains additional hydrogen gas, which is tasteless and odorless. The additional hydrogen added to regular water is said to improve health by decreasing inflammation, enhancing athletic performance, and as mentioned, decrease the aging process. It is safe to consume and approved by the FDA. 
Consumers are excited about the prospect of hydrogen water:
Although the hydrogen water market is still growing, with only a number of brands developing products, there are various key concerns for this market, these include packaging and regulation of the level of added hydrogen. 1008 Hydrogen Water is natural and pure, and with many other popular brands on the market, what sets 1008 apart is there are no additives and it's naturally enhanced. The company also moves away from the booming glass and plastic bottle industry by using sleek water pouches, which contain the water securely and prevent the small hydrogen molecules from escaping (something that will happen if it is in a glass or plastic bottle). 
With the aim to create more environmentally conscious products, 1008 pouches are also BPA-free and recyclable and their concave shapes, with latch holes, ensure an ease of use that also minimizes the eco footprint. Adriana and Brooke are pleased to announce that their new product will launch in the Spring of 2021, and will be available for purchase through their Drink1008.com website.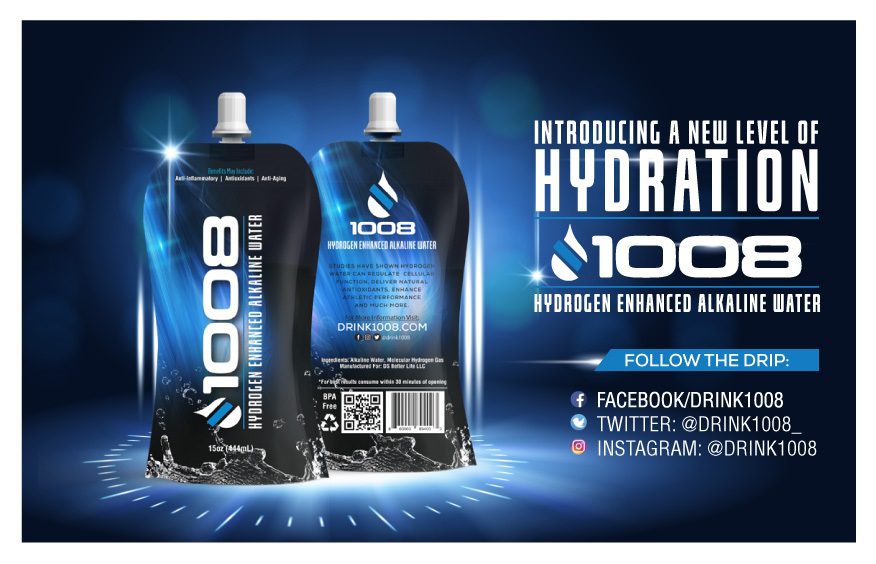 The team is excited to share their hydrogen water, and have already made contacts with various gyms and grocery store chains around the United States. As the market for health and well-being is constantly growing, with more individuals becoming conscious of what they consume and use, 1008 Hydrogen Water will conveniently suit these raised health and well-being standards. 
Final take
As the old adage goes, 'we are what we eat', so too can it be said that 'we are what we drink'. 1008 Hydrogen Water taps in to the deeper levels of sustenance and believes that healthy hydration is as important as a healthy mindset. The 1008 team can be reached on various social media platforms like Instagram, Facebook, Twitter, and Youtube, as well as contacted through their website for orders available from Spring 2021.
Suggested video from 1008