It's the holiday season! There's no other perfect time to celebrate and unwind after a year filled with ups and downs than this season. But celebrating requires cash, which can take a ton off your pocket. This is why you need to make the most out of holiday shopping.
The holiday shopping season is the period from October to January where sales peak due to mouthwatering deals and incredible discounts. It used to be about bringing home souvenirs, but today, it's about rewards and credits. Compare various store prices, recommends Scott Langdon, Analyst at Compare Credit, to make the best credit decision for holiday shopping.
Nevertheless, if you're planning to maximize your holiday shopping experience, here are things to consider:

1) Put Safety First

In the whole shopping frenzy, it's easy to forget safety precautions. Yet safety precautions are one of the most important things during this season.
The major safety precaution to take this season would be to adhere to COVID-19 guidelines and try to shop online. That way, you can maintain social distancing as you engage in holiday shopping.
If you have to use the internet, it'd be best to avoid joining public Wi-Fi. It's easy for hackers to access your account details once you connect to public Wi-Fi, especially during this period. You also need to be wary of clicking unknown links about deals and discounts as they may contain malware.
2) Make A Budget
There are always deals during holiday shopping, and you may find yourself picking up every single thing that attracts your eyes. While this may be fun, it's detrimental to your pocket. 
Many people who carry out this act find themselves starting the year with barely any cash at hand, hence the importance of having a budget before going on a shopping spree. A carefully crafted budget helps you spend your money wisely.
Calculate all the expenses you're going to make during the holidays while explicitly stating what you're buying or spending cash on. Don't forget to limit how much you spend on gifts. Most times, a lot of cash flow goes into buying expensive gifts. It's essential not to spend so much on gifts only.
3) List Shopping Items
Creating a list keeps your wants in check and your budget organized. Aside from that, it reduces your shopping anxiety, boosts your brainpower, and improves your shopping experience. You hardly miss a thing when you have a list of items you wish to buy alongside prices and brands offering them.
Listing your shopping items might be tasking, but it's a necessary step to take. If you want to make the most of your holiday shopping, then drawing up a list is essential. Not only should your list be reasonable, but it should also be practical. Don't go all out on deals while preparing your list. Remember, there's still life after holiday shopping.
Your list should contain every single item you plan to spend on. If possible, arrange your list in order of importance and get the items on the top of the list first. It'd help if you do this because some of the things you want to get might turn out to be more than your budget. You can use online tools and apps to arrange your list and ensure it conforms with your budget.
4) Create Price Alerts
If there's one thing that isn't constant in the market, it's the prices of goods. It's the holiday season, and you want to make sure you're getting each item at the best deals available. Price alerts are a great way to find out whenever the price of a product has been reduced to a level that's beneficial to you.
One of the great ways to get the best deals during the holidays is to carefully bide your time for the possibility of a price drop on whatever item you want to purchase. You can also make use of apps that help you crawl through sites to find the best prices for items. 
There are amazing deals out there, so don't fret and rush into purchasing items for high prices when you could get them for lower prices.

5) Take Advantage Of Social Media

Shopping for someone during the holidays can be tricky, especially when they can't tell you what they want for the holidays outrightly. This is where social media comes in. There are always deals on social media you can leverage to maximize your holiday shopping experience. 
Instagram is a great place to start from; with all its aesthetics, no one can resist the insane desire to follow their favorite brands. Also, it has these unique features that quickly show you comments made by someone you follow, so you can find out exactly what your mutuals are getting for the holidays.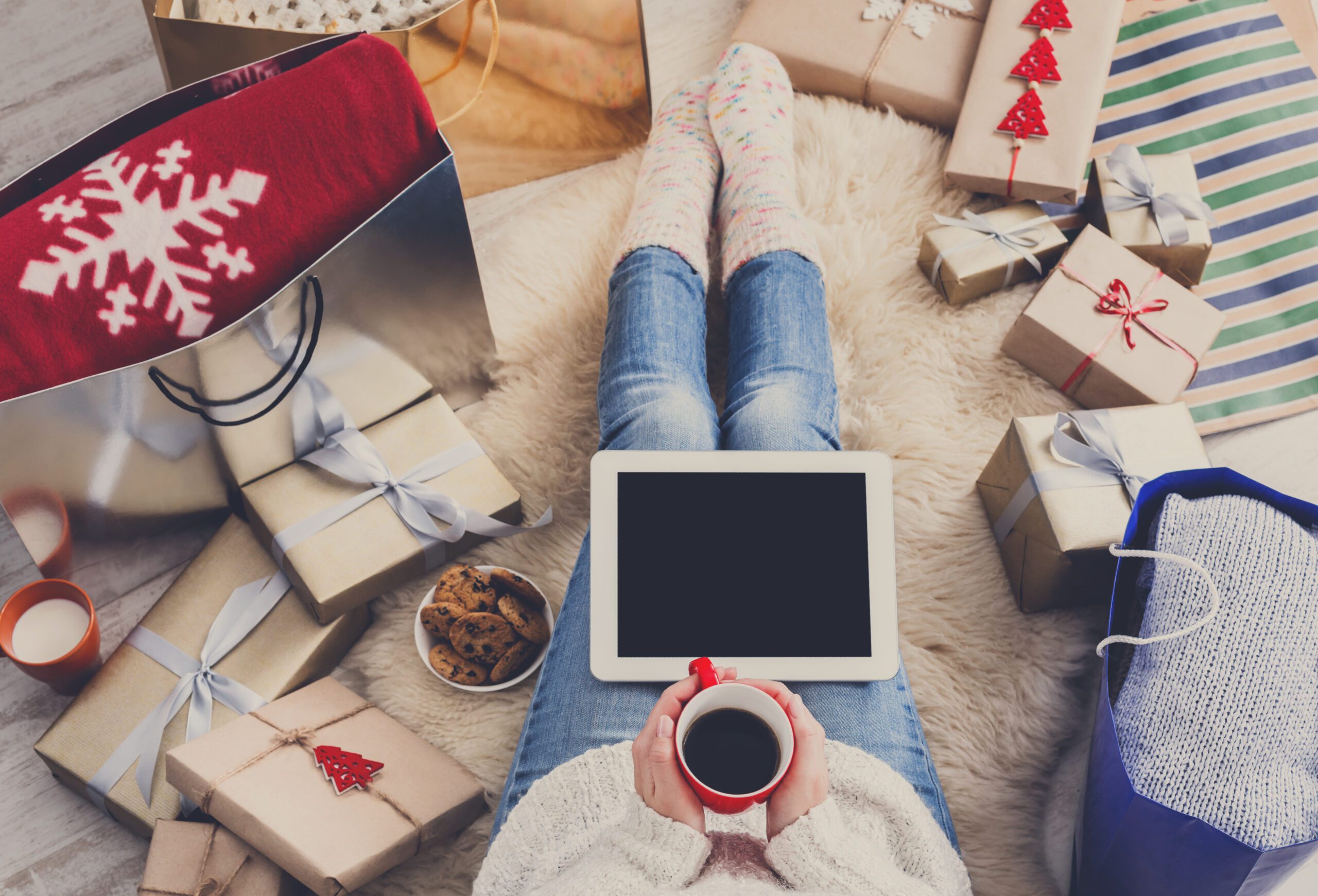 6) Use Reward Apps

Reward apps are a great way to earn loyalty rewards and exchange them for gift cards. Some apps reward you with points for whatever purchases you make. All you have to do is snap and upload your receipt on the app, and you get points immediately.
You can also earn points even if you're not making purchases. But you need to refer people to buy goods. This form of reward is known as a referral system. The more people you refer to achieve a set action, the higher your reward points.
The best reward app captures your needs and provides you with regular details for a maximum holiday shopping experience.

7) Take Advantage Of Amazon Prime

Amazon Prime is another way to maximize holiday shopping. The holiday season is the best time to milk out all the amazing Prime offers. And if you haven't subscribed yet, this holiday season is the prime time to do so. During the holiday season, Amazon offers its subscribers a 2-day free shipping deal. Awesome, right?
So, you can easily buy what you want without considering the shipping fees. Plus, a subscription comes with access to Amazon's streaming services. Here, you can access the most amazing TV shows. You also get access to the original Amazon series.

8) Take Advantage Of Black Fridays

Black Fridays can be annoying with every seller trying to convince you of how sweet and amazing the deals they have to offer are. Amid the crazy noise, Black Friday is a great day to get awesome bargains. But you need to research before dealing with companies as some brands can manipulate your ecstasy.
Some of the sweetest deals you can find on Black Friday are electronic deals. So, if you're looking to shop for electronics, you should consider Black Fridays. Toys are another product with amazing deals. There could also be deals and discounts on clothing, health and beauty products, and sporting goods.

9) Use Payment Options

Payment options are another way to help you get the most while shopping this holiday season. Some payment options offer 'buy now, pay later' that let you purchase as many goods as you want with the option of paying later or in installments. It's a great offer if your budgeted shopping amount doesn't cover all the goods you want to purchase. 
You can also try to pay for goods using cryptocurrency and digital wallets. That way, you can easily go contactless with payment and help curtail the spread of the coronavirus. Debit and credit cards are other great payment options you can use to purchase goods. But you need to be careful with payment gateways so you don't fall into the hands of hackers pretending to work for brands to steal your card details.

10) Don't Wait Until The Last Minute

Although it's important to wait for the best deals, you don't have to stretch it. While waiting for the best deals, you don't want to keep waiting till the last minute. Last-minute shopping is one of the dreaded events of the holiday season. You can easily find your cart filled with goods different from the one on your shopping list.
Therefore, it's essential to keep it at the back of your mind that the holiday season is equivalent to the shopping rush season. Also, waiting till the last minute can incur additional fees like expedited shipping fees. There's also the possibility of you buying items for high prices. Holiday seasons come with a hike in the price of goods during the later parts of the holidays. While you can wait for the perfect deal, don't wait for so long.

Conclusion
Holidays are great periods to stock up on goods at reasonable prices. But you're not the only one thinking about the juicy deals and discounts. There are several customers like you who want to make the best out of the offers. So, you need to be intentional with the way you handle the shopping if you are to maximize the experience. While you shop, ensure your safety, stick to your budget, and take advantage of programs, apps, and payment options. Consider the ideas mentioned here as you plan and prepare for your holiday shopping.