Are you new to SEO and want to learn tips and tricks to help your business grow? We will tell you WordPress SEO importance and how to implement SEO using our effective tips.
With the right tools and tips, you can make your website more visible to potential customers and boost your business. This blog post will share 10 WordPress SEO tips to help you expand your business online.
From using title tags, headers, images to optimizing domain names, these tips will help you get the most out of search engines and bring more customers to your site.
How Is WordPress SEO Effective for Ranking in SERPs?
WordPress is a platform that makes SEO a breeze for its users. When you use the right techniques, WordPress SEO brings about drastic developments in boosting business websites. The plugins help you with everything from on-page SEO to the technical aspects of it.
Below are some amazing WordPress SEO tips that can boost your business if you properly follow its guidelines. 
Benefits WordPress SEO offers to your growing business:
Brings organic traffic to your site 

Drives sales lead for your business

Costs low and performs exceedingly well

Adds value to your customers' life
So, it will be best to follow some smart tips to help you outshine many other websites fighting for web traffic. WordPress SEO tips help you cope with the fierce competition in the market.
WordPress SEO importance is beyond explanation for a scaling business. You must do it with utmost attention and dedication to get results. Take no pressure because we will discuss some practical and actionable SEO tips for you in this blog.
10 WordPress SEO Tips to Boost Your Business Online
The world-famous domain host provides free CMS (Content Management System) and SEO plugins that help you reach more people.
But is that enough? Certainly not.
You have to focus on how you are creating your blogs, maintaining the available content, and optimizing it for search engines. WordPress, luckily, is an excellent place to begin.
Understanding WordPress SEO importance, we plan to share some helpful SEO tips for WordPress with you in the following section.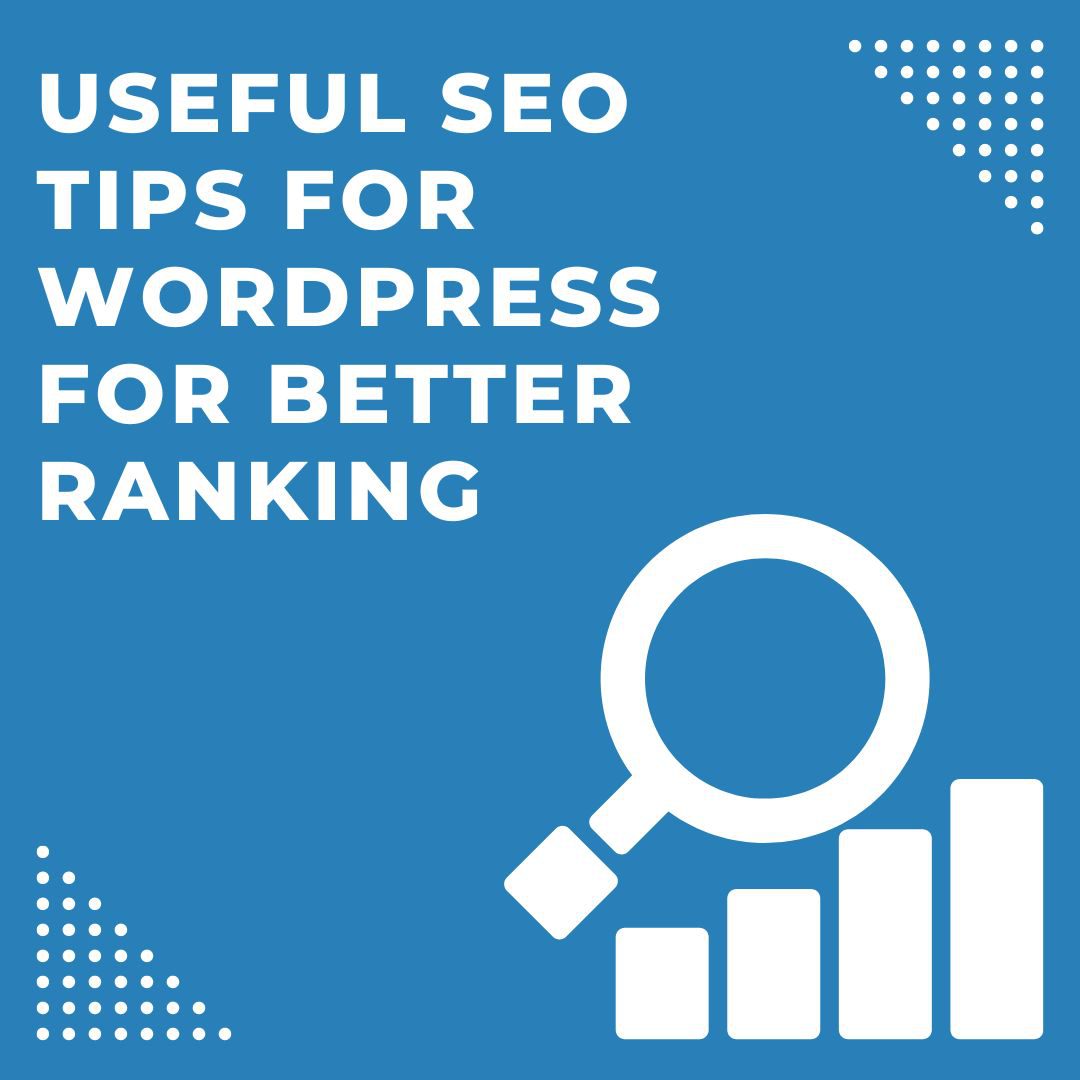 Are you up with your fancy WordPress theme and your first blogs ready to publish? Have you taken care of the SEO of the website? Do youIf not, you should continue reading to get some useful basic tips for a start. 
Win the SEO game with WordPress by following the tips below.
1. Select the dot com Domain for Authority
It's important to understand the importance of short domain names for your website's SEO before we jump into the specifics of WordPress SEO. It will be best to have a strong but short domain name in today's cutthroat competitive world.
An SEO-friendly domain name stands proof to WordPress SEO importance. A domain name represents your business, while a short domain name with keyphrases helps search engines identify you.
When choosing a domain name to drive organic WordPress blog traffic, check on these points.
Tips for Domain Name:
Whenever possible, use the most common '.com' domain.

Keep the domain name short and simple. Let people remember your domain name by making it easier for them.

Google likes domain name types, your 'brand name.com.' You can benefit from using this type as well. 

Select a domain that is easy to recall. 
Preferring the '.com' domain will potentially give your website more authenticity, and a short unique domain name will make it easy to rank.
2. Optimize Website's Visibility
You have made your website on WordPress and updated good content but you're not getting any traffic. What can be the reason?
You have to check your website's search engine visibility option on WordPress. Is the box checked? If it is, then you must uncheck it.
Steps to uncheck search engine visibility on WordPress:
Go to Settings

Click 'Reading.'

Uncheck the 'search engine visibility' box.
Many people who use WordPress as their domain host and are non-technical can miss out on this important feature. It's good that you're aware of it now.
3. Do Rigorous Keyword Research
SEO and keywords are intertwined so that one doesn't exist without another. So, anyone who seeks WordPress SEO should know that it's important to focus on low-density keywords.
Some Tips For Choosing Winning Keywords:
Keywords will help if you use keywords relevant to the context of the content.

Make the use of keywords completely natural throughout your website.

Keywords should not be more than 1-2 words (

long tail keywords are easier to rank

– AHREFS).
You can use good tools like UberSuggest, Ahrefs, or Semrush for keyword research. Don't worry if you are unaware of the process. You can hire SEO reseller services to take care of it from first to the last step.
4. Optimize UX Design of Your Business Website
Website design is the least of our concerns when establishing our website's search engine visibility. You may be wondering how UX is a part of WordPress SEO tips. It is included because UX helps with better user experience.
3 Benefits of a good website design:
A good website design makes you memorable. 

Friendly UX design makes website navigation easier for users.

A UX design can impact your website's speed. 
Investing in a good UX design attracts users to your website. According to 2022 stats, 74% of users will likely return to your website owing to an impressive design.
5. Optimize Images Live on WordPress
Images or other media formats make your website interactive which is why it's one of our SEO tips for WordPress. Business Resources says your website gets more views because of the images you use.
Our SEO tips for WordPress don't just relate to content optimization, but it also involves image optimization.
Steps to Optimize Images
PNG image formats 

Smaller sizes to rank faster

Alt tags/Captions.
You should have images that you can connect to your business website. They should be high resolution so users can understand what you want to illustrate.
6. Write User-Friendly Content for SEO
Many people mistake the concept of search engine optimization and put their blood, sweat and tears into impressing search engines. It's useful, and we get that. But, one of our WordPress SEO tips for you is to focus on optimizing your content for humans.
Tips to Create SEO Optimized Content
Use keywords (duh!).

Shorter paragraphs and shorter sentences. 

Well, formatted content that makes sense.
If you run a business, then your website is your online shop. This is one of the reasons why WordPress SEO should focus more on the users. Use relatable content that speaks directly to your demographic.
7. SEO-Friendly WordPress Themes
If you want to improve the WordPress SEO of your website, you must choose a good theme. The website theme affects your website's loading speed which is a big no-no factor for internet surfers. 
3 Tips for Choose a Good Theme:
Pick a theme that has page builder plugins.

An up-to-date piece will be a good choice.

Choose a theme that's compatible with multiple browsers.
A website's theme also has the potential to negatively impact responsive UX design, which users hate without mercy. They bounce back immediately. So, fixing it should be the first thing you do.
8. Do White Hat SEO
Whitehat SEO covers all the requirements that search engines want website owners to follow religiously. This type of SEO let's search engines identify you as an excellent source to list. White hat SEO works best with on-page, off-page, and technical SEO.
Essential Considerations in Whitehat SEO
Follow keywords insertion rules.

Follow the search engine's guidelines.

Speed up your website's speed.
When doing whitehat SEO following other SEO tips for WordPress, you take care of the optimization updates.
9. Pay Attention to Permalinks
Permalinks or permanent links are your website's content links, and for WordPress SEO, you need simpler and easy-to-read URLs. This is 'the URL: https://domain.com/?p=123' that WordPress assigns, but this doesn't specify what your content is about.
Factors to include in Permalinks:
Use the primary keyword.

Use the post name as your content's URL.

Keep the permalink short.
Permalinks are one of the most crucial SEO tips for WordPress.
10. Use WordPress SEO Plugins
WordPress SEO is easy for even beginners because of the plugins it offers. Some free plugins don't affect your website's speed but also help you rank.
Some Free Plugins to Use with WordPress SEO:
Rankmath plugin.

Semrush plugin.

SEO writing assistant.
With the plugins, you also have to focus on the content you are putting on your website. You also must follow the useful SEO tips for WordPress we shared above. You can win only by covering most of the ground.
Conclusion
Businesses must focus on SEO to earn quality WordPress blog traffic that expands their market and online visibility. But WordPress SEO is not a piece of cake. You have to play all your cards and leave no rock unturned.
We hope these WordPress SEO tips will help you rank and achieve your business goals effectively.