Delilah Home is the organic home textile company based in Charlotte, North Carolina that recently partnered with Operation Home to support children in need. Until the 31st December, 10% of all profits of their home textile ranges are pledged to helping children in underserved communities.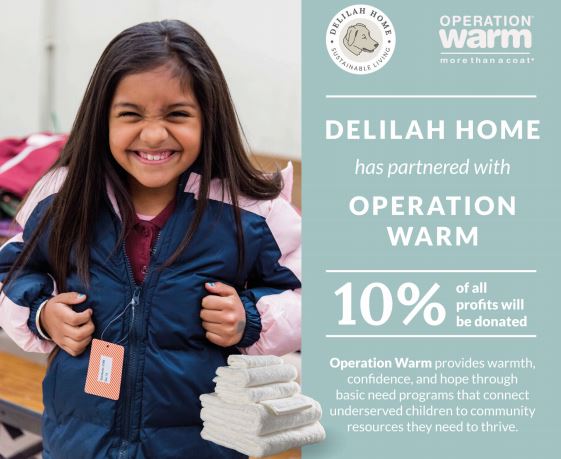 Operation Warm – Providing Warmth, Confidence, and Hope
Operation Warm is a national nonprofit that has been connecting with communities and meeting their needs for 22 years. Their holistic approach starts with the supply of brand-new, high-quality winter coats and shoes for children in Title 1 schools, students receiving free or reduced lunches, or those living in a shelter. Operation Warm seeks partnerships with individuals, community organizations, and corporations across North America providing children with "more than a coat." This support forms part of a vital protocol that brings emotional warmth, increased social confidence to socialize, and success. In a few words – the hope of a brighter future.
"At Delilah Home, we are very excited about partnering with Operation Warm as we enter fall and winter," said Michael Twer, CEO and Founder of Delilah Home. "Our effort is driven by Sustainability, Impact, and Community – these three fundamental pillars drive our efforts to tithe back to the community we serve. I have served the Mecklenburg South Rotary Club for the last two years and have witnessed firsthand the results of Operation Warm's initiative in elementary children in our area."
Founding a Company with A Conscience
Towels and bedsheets are essentials for every home, but so are its pets. Delilah Home owes its name to Delilah the family dog. In 2018, she survived an ordeal that almost cost her life in the mountains of Carolina. For 62 days, the traumatized puppy fought the elements, including record-breaking winds and icy conditions. Thanks to the commitment of the community, she returned home safely. Her story reflects the fundamental pillars Delilah Home was built on.
Since it was founded in 2019, Delilah Home manufactures a beautiful and extensive range of plush 100% organic cotton bath, kitchen, and beach towels. Delilah Home's towels all have the Global Organic Textile Standard (GOTS) and are luxurious to the touch. Towel sizes range from face size to extra-large beach towels, allowing customers to create towel sets according to the sizes they prefer.
Sheets are made with hemp or organic cotton, and both ranges have won several accolades. These include Good Housekeeping's 2021 "Best Bedding" award and the Wall Street Journal's "Worth the Splurge" recommendation for the 100% organic hemp bed sheets. These sustainable sheets are both lightweight and a chic extravagance for every home.
Sustainable Fibers – A Love for the Environment
Michael Twer is also the Chairman of the Organic Trade Association Fiber Council. "For us, it is important to investigate the origins of the materials we source for our linens and towels," he said. "It is also about ensuring fair trade across the entire chain of farming, manufacture, and distribution. As a company with a conscience, we are paying above living wages, but also want to give back wherever we can."
Sustainable textiles derived from 100% organic cotton, hemp, and other fibers help to address the environmental challenges. Hemp is one of the most sustainable plants on the planet since it is fast-growing and its cultivation requires very little water, energy, fertilizers, and pesticides. Another advantage of growing hemp is that it doesn't exhaust the soil, no matter how many years it is grown in the same place.
As opposed to conventional cotton, organic cotton is grown from non-GMO seeds and does not impact the environment in the same way. Its farming requires 71% less water and it does not expose farmers to harmful substances, and its cultivation methods are aimed at preserving the soil. The only way to prove an organic product is with certification and strict controls. Delilah Home adheres to these core values.
Giving Back
Every year, Delilah Home donates 10% of its profits to local charities to support causes that make everyone feel better, including people's health, kids, pets, and most importantly, the planet.  
Grace Sica, Executive of Operation Warm said: "We proudly partner with Delilah Home and their commitment to making an impact on their community – especially in a year like this when more families than ever need our help." She added, "Delilah Home's CEO, Michael Twer, is known for supporting his community. His pledge of 10 % of all profits to Operation Warm enables us to provide even more children with coats and shoes."