Shopping from the comfort of your home is becoming increasingly popular. And with the global pandemic that is forcing everyone to stay home as much as possible, this is not just about convenience anymore, but safety as well.
The global pandemic could even be seen as a blessing in disguise for certain fashion e-retailers who experienced fast growth and increased sales in 2021. Below we will look at some of the e-retailers who did particularly well and see what makes them successful. 
1) Tabitha Simmons
Tabitha Simmons specialises in beautiful, high-quality ladies' shoes. Its homepage immediately draws attention with its absolutely stunning professional photography. The crisp colours make these stylish yet modern designer shoes practically leap off the page. They are made in Italy by expert cobblers and worn by A-list celebrities.
2) CarloMaderno (Retailing as carlomaderno.com) 
CarloMaderno specialises in luxury jackets and designer shoes for men and women. It was established in 2020 and already has a loyal fan base who loves the wide variety of styles, affordable prices, and free delivery to virtually anywhere in the world. This online shop sells famous brands like Air Jordans, Yeezy, Nike, and Adidas. And for added peace of mind they have a 14 day refund/exchange policy and a 30 day warranty.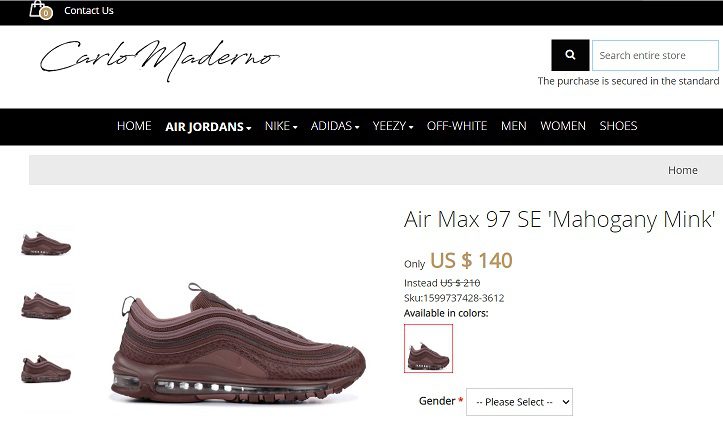 3) Verge Girl
Verge Girl sells dresses, jeans, jackets, and accessories for young, sassy women. Their fashion items, made by Australian and other international designers, have an effortless, chic style. Each item is worn by a model in various poses so that consumers can see exactly what it looks like from all angles. They give consumers an afterpay option which allows them to pay for their purchase in several installments.
4) Réalisation Par
Réalisation Par specialises in ladies' dresses, skirts, and tops. The clothing label was founded by Alexandra Spencer & Teale Talbot. Each item is shown from various angles and has its own "story". What makes this brand's marketing campaign interesting is that it uses Instagram to help sell the products. So-called "Dream Girl" customers post photos of themselves showing off their purchases.
5) Natori
Natori sells gorgeous lingerie, designer intimates, sophisticated dresses, and comfortable sleep and loungewear. The website has a clean, stylish look and is easy to navigate. It also has live chat that provides instant assistance.
6) Bohemian Traders
Bohemian Traders is a beloved Australian brand with classic European cuts for the modern bohemian. They are very inclusive and cater for virtually all sizes – from 2XS to 4XL. Many of the models pose in loose, flowy dresses on or near a beach, thereby creating a relaxed, carefree atmosphere.
7) Cutter & Buck
Cutter & Buck specialises in sportswear, golf apparel, and stylish casual wear. It is clear from the photos that the clothes are quite upmarket and very high-quality. Unsurprisingly most of the models pose on a golf course. The website features beautiful, clear photos of healthy, sporty people. 
8) Olive Clothing
Olive Clothing is a British contemporary lifestyle brand for men and women. The homepage is black-and-white and the rest of the website is grey. This goes well with the subdued, understated look of the clothes.
9) Tyler's
Tyler's is a Texan store that promotes an active, healthy lifestyle. The website has bright colours and shows happy, smiling people enjoying life. The store sells athletic and lifestyle apparel, footwear, and accessories for men, women, and children. It was established in 1978 in Tyler, Texas, and stocks more than 350 brands.
10) Rollie Nation
Rollie Nation is an Australian brand that sells comfortable, lightweight shoes for men and women. Vince Lebon designed the shoes with travellers in mind. He was inspired by his wife, Rollie, a flight attendant, who was looking for a comfortable pair of shoes to wear when travelling around the world. The shoes look great, but the main thing is that they feel great. The website has lots of bright colours that complement the fun, quirky designs.
All ten e-retailers have done extremely well in 2021. And the thing that they all have in common is that their products are of a very high quality. When shopping online it is essential that customers trust the company they are buying from.
Suggested reading: Learn more about Instagram Verification in this article on International Business Times.