The evening sun bathes the town in a blue splendor of colors. The whole city seems to shine – like a mystical underwater world. But these are only short moments in the turbulent alleys, which are winding, narrow, sometimes ascending, sometimes descending and lead the visitor from place to place and store to store. Here you can find handicrafts, leatherwork, handmade carpets or the warm djellaba with a cap famous in this area. Not all that glitters is gold, but those who are not immediately persuaded to buy the next best thing can still purchase small local treasures here. 
It is also worthwhile to follow a path upwards a little outside Bab Mukaddam. Here you can not only marvel at waterfalls in their wildness – where you can almost stay in the middle of them in a restaurant – but here you also go to a high mosque, from where you can see the amazing sunset. 
Chefchaouen is definitely well worth a visit during your Morocco round trip. You shouldn't miss it. Let yourself be infected by this friendly serenity of the Rif Berbers. And imagine that until 100 years ago, access to this former largest northern Moroccan educational center was still forbidden to Christians. We'll take you there. Africa North Journeys.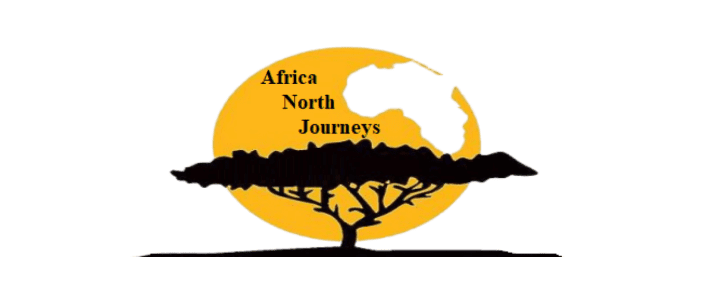 Moroccan Riads – Travel Morocco with Africa North Journeys
Riads in Morocco are typical Arab medina architecture and owe their name to the inner courtyard. The experience of spending one or more nights in the Sahara Desert is what we always recommend to our travelers, having a night in a standard camp or luxury camp is always recommended from our customers whether they are going to Morocco for the first time or decide to return to relive the excitement, with the goal of taking wonderful photos, observing nature, listening to the silences, and becoming familiar with the local cultures in a unique territory. 
We offer different types of tents, to be surrounded by vast stars in a clear sky is something you won't find only in the desert. from the simplest to the most finished and spacious that include tent furnishings and facilities. In winter, the temperature at night can drop to freezing; in summer, it is very hot during the day. To enjoy to discover to have fun in Morocco is through one way which is a private tour enjoy us and lets cross Morocco together from the north to south to west from the ocean to imperial cities to atlas mountains reaching the Sahara desert. Places like the imperial city of Meknès, the medieval city of Fez, the Roman ruins of Volubilis or the Berber encampment in the desert should not be missed on your trip. We look forward to welcoming you soon. We give you our warmest welcome.