Let's face it, navigating today's unpredictable economic climate calls for a strategic financial strategy. While sticking to a well-planned budget and reducing unnecessary expenditures is beneficial, it can only go so far. To stay truly financially secure, a supplemental income source can be a game changer. Whether it's leveraging your professional skills, capitalizing on your hobbies, or seizing opportunities in the gig economy, additional income streams can bring much-needed financial relief and independence.
Top 10 Ways To Earn Extra Money
The good news is that diversifying your income doesn't mean you have to stretch yourself thin or quit your day job. It simply means you can turn your free time or underutilized skills into cash by exploring various gig economy options. 
That said, here are ten inventive ways to earn extra income, each with its unique benefits and requirements.
#1. Offer Freelance Services
As the digital landscape expands, the demand for diverse freelance services continues to rise. You can capitalize on your skills and expertise in areas like graphic design, copywriting, programming, social media management, and more. 
Sites like Upwork, Fiverr, and Freelancer offer excellent platforms to connect with clients worldwide. The beauty of freelancing is the flexibility it provides – you can work as much or as little as your schedule allows, setting your own rates and choosing projects that match your interests.
#2. Grocery Shop for People using Instacart
Do you enjoy shopping and have some spare time? If yes, then working as a personal grocery shopper might be an avenue worth exploring. The gig involves shopping and delivering groceries on behalf of customers who, for a variety of reasons, may be unable to do it themselves. 
This not only enables you to earn a substantial income but also allows you to serve others in a meaningful way. With the flexibility to choose your working hours, you can adapt this role to your existing schedule. This unique opportunity to monetize your shopping skills proves that making extra income doesn't always require a drastic departure from the activities you already enjoy.
#3. Deliver Food or Give Rides with Uber or Lyft
If you own a reliable car and have some time to spare, driving for ride-sharing or food delivery services could be a great way to earn extra money. Whether it's getting people safely to their destinations with Uber or Lyft or delivering delicious meals through services like Uber Eats or DoorDash, you're making the most of your vehicle and your time.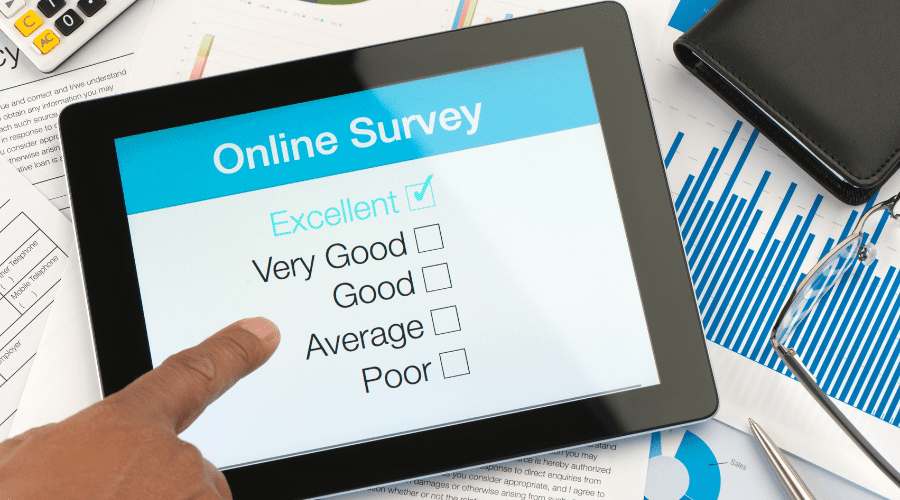 #4. Complete Paid Surveys
If you're looking for a low-stress and flexible way to generate additional income, completing online paid surveys could be an excellent choice. The fact is that online market research companies are constantly seeking consumer opinions on a variety of topics, and they're willing to pay for it. 
While it's not a strategy for becoming an overnight millionaire, the earnings from these surveys can add up over time. This passive income option is a great way to monetize your free time, such as during a TV show break or on your daily commute.
#5. Sell Unwanted Items Around Your Home
Decluttering your home serves a dual purpose – it cultivates a more organized, serene living space and can be a valuable source of extra income. By selling items you no longer need on various online marketplaces, you can convert your surplus belongings into cash. This includes everything from old furniture and electronics to clothes and collectibles. 
Given the vast and diverse online marketplace, there's likely a buyer out there for what you have to sell. In fact, you'd be surprised at the value of items gathering dust in your attic or garage! It's a win-win: you free up space in your home, find a new purpose for your unwanted items, and earn some extra money in the process!
#6. Offer Private Tutor Services
Alternatively, if you excel in a particular subject, offering private tutoring services can be a profitable venture. Parents are often willing to pay for extra help for their children in subjects like math, science, or English. 
Besides academic subjects, you can offer lessons in areas like music, arts, or foreign languages. If this sounds like something you're interested in, you can advertise your services locally or use online platforms such as Chegg Tutors or Tutor.com.
#7. Offer Pet Sitting or Dog Walking Services
For animal lovers, pet sitting or dog walking can be an enjoyable way to make extra money. Many pet owners are willing to pay for someone reliable to care for their pets while they're at work or on vacation. Websites like Rover or Wag connect pet caregivers with clients and provide an easy way to start your pet-care business.
#8. Become a Consultant
Direct selling companies like Paparazzi or Scentsy offer opportunities to earn money by selling products and recruiting other consultants. Though there are initial costs required for a starter kit, with enough effort and a good network, it can become a significant source of additional income. Thus, allowing you to work at your own pace, setting your own goals and strategies.
#9. Sell Homemade Crafts on Etsy
If you're crafty, selling handmade items on Etsy can be a rewarding way to generate extra income. Etsy has a vast customer base looking for unique, artisanal items, from jewelry to home decor. It's a platform that allows you to turn your creativity and passion into a business, reaching customers from all over the world.
#10. Advertise on Your Vehicle
Companies are always looking for innovative ways to advertise their products or services, and one such method is vehicle advertising. Companies like Wrapify or Carvertise will pay you to wrap your car in advertisements. The earnings vary based on factors like the size of the ad and how many miles you drive, but it can be a passive way to earn extra income from your daily commute.
Turning Spare Time into Cash
Ultimately, there are many creative ways to supplement your income, suited to various skills, interests, and lifestyle needs. Whether you want to capitalize on your professional skills, help others, or monetize your hobbies or resources, these ten methods offer exciting opportunities to boost your earnings. It's all about finding what works best for you, as the most effective way to make extra income aligns with your passions, strengths, and schedule. Either way, though, with some effort and creativity, you can turn your spare time into a productive, income-generating venture!