One of the most popular types of food in Puerto Vallarta is tacos, which can be found all throughout the city with tons of variety. Both street tacos and countless restaurants will have their own variety of tacos. You likely dont have time to try them all, but you can do your best! 
The most traditional street taco in Puerto Vallarta is the "al pastor" taco, made with marinated pork, cooked on a vertical spit similar to shawarma. The meat is thinly sliced and served on a small corn tortilla with cilantro, onions, and a squeeze of lime. Another popular street taco is the "carnitas" taco, made with slow-cooked pork that is crispy on the outside and tender on the inside. It's usually served with salsa and lime. There are endless restaurants that serve incredible pastor – but without a doubt our favorite one is Sonorita's in Nuevo Vallarta. The amount of pastor meat that comes in every taco is unmatched.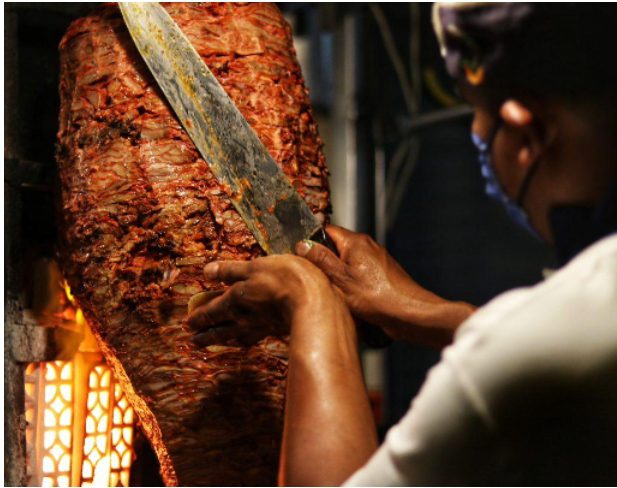 Chef cutting slices off the pastor meat for the night rush
Braised Meat
Then there's tacos de birria which is a type of meat stew (beef or goat/lamb usually) that is cooked with a variety of chiles and spices, which gives it a rich red color. The dish is often used to make tacos, which are made by filling tortillas with the juicy meat from the stew. The tortillas are then fried in a small amount of the fat that rises to the top of the stew, giving them a crispy texture and appearance (known as "dorado" in Spanish – which translated means "golden" in English).
When served, the tacos are typically accompanied by a flavorful broth from the stew called "consomè,", and are garnished with fresh onions and cilantro. This has certainly become one of my personal favorite things to eat in town, and Im not normally a big fan of soups, but the rich flavor of this broth is unmatched. There are several incredible places around the city with this type of taco – our favorite location being just behind the malecon in Centro called Taqueria de Birria El Banquito.
Fish Tacos
For seafood lovers, Puerto Vallarta offers a variety of options such as ceviche, seafood cocktails, and fish tacos. The ceviche is made with raw seafood (like Spanish Mackerel or shrimp in many cases)  that is marinated in lime juice and mixed with diced tomatoes, onions, cilantro, and jalapeño. The seafood cocktail is usually served in a large glass and consists of mixed seafood such as shrimp, octopus, and crab mixed with a tomato and lime juice. Fish tacos are a very popular dish in Puerto Vallarta too, usually made from grilled freshly caught  Mahi-Mahi or Tilapia, and served with a variety of toppings such as different salsas and lime.
The Most Popular Options
If we were to mention all of the varieties of tacos just in Puerto Vallarta, it would quickly add up to the length of a small novel. But these are certainly the must-try tacos in the city and in the bay of Banderas. However I must mention these tacos too are excellent and all worth trying if you're able to see them on your adventures: 
Arrachera

–

arrachera is a well-known cut of beef in Mexico, typically found in high-end taco restaurants and is often the most expensive option on the menu. It is made from flank steak, which is thinly sliced and cooked to be slightly pink in the middle. The steak is then cut into strips and served on a tortilla. This type of taco is particularly popular in Northern cities like Tijuana and Monterrey, but can also be found in upscale taco restaurants in Mexico City, Guadalajara, and Puerto Vallarta. There are many places around the city that offer this meat, but its not the most common because it's usually one of the pricier options. 
Bistec

–

bistec is a type of street taco that is made with steak. The steak is usually sliced thinly and cooked quickly on a flat top griddle. It's a simple taco that is commonly offered by most taco vendors. It's usually served with either cooked small white onions or raw white onions and cilantro. If you're looking for a more basic option, you can find a decent bistec taco at most taco stands.
Barbacoa

–

barbacoa is a method of cooking where meat is roasted over a long period of time in a pit or open fire. In recent times, barbacoa mostly refers to a specific type of taco that is made differently in different regions of the country. Traditionally, it is made with sheep or goat meat, but it can also be made with beef. This type of taco is typically considered a delicacy and is often served at big parties or celebrations. It is not typically a regular dish as it takes a long time to prepare.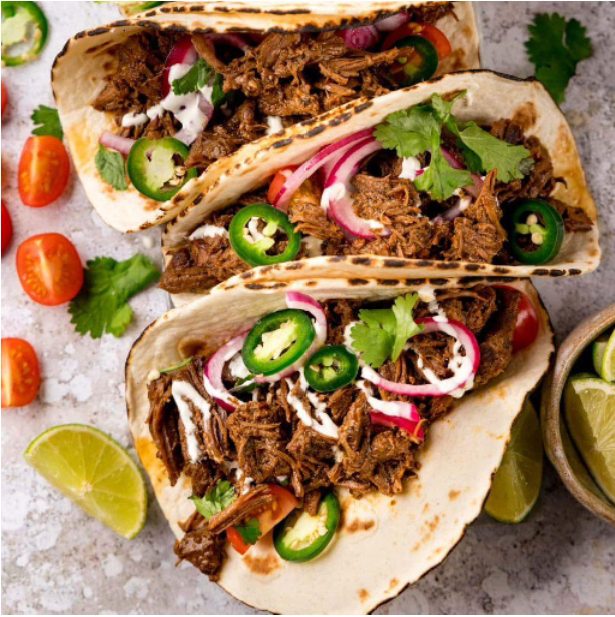 Barbacoa – slow cooked pulled meat topped with fresh cilantro and lime.
Suadero

–

suadero is a type of beef that comes from a specific part of the cow, located between the leg and belly. It's generally slow-cooked together with other cuts of meat in animal fat. The result is a meat that is very tender, with a texture similar to room temperature butter. It has a strong beef flavor and can be a bit greasy due to the fat from the meat.
Carnitas

–

carnitas, also known as "little meats," is a type of taco filling made from pork. The pork is slow-cooked, using a wide range of cuts, including the nose and tail. The meat is typically served in different ways, the most common is to ask for maciza, which includes white meat cuts such as loin, chops, and chamorro (shank). A great place to try this type of taco is called

Tacos Goyo Bahia de Banderas.

 
Tacos Dorados

–

tacos dorados are similar to hard shell tacos, and are often filled with a variety of meats like barbacoa or chicken. They can be prepared in two different ways. One way is that the tortilla is filled with meat and then closed and fried with a toothpick. The other way is that the tortilla is filled with meat and rolled up like a flute and then fried. Tacos dorados are typically served crispy and garnished with cream, lettuce, and cheese on top. This is likely not a taco you'll find on the street, but rather at many sit down local restaurants. Its a different take on tacos altogether because of its presentation and cooking process. But I can tell you this, if you havent tried this type of taco- youre in for a real treat! 
Vegetarian Options
Located in Centro, theres even tacos that specialize in other fillings instead of meat. Take Pellizcadas for example located in Centro. Indulge in the delectable delight of our highly recommended cream of mushroom taco. With a plethora of tantalizing options to choose from, it's a mouthwatering challenge to savor the diverse range of flavors these tacos offer. Embark on a culinary journey through Mexico, the land of the taco, where each bite unveils a new and irresistible sensation. Don't miss the opportunity to experience this unique and unforgettable treat.
Conclusion
Lastly, the tacos aboard our yachts are the final place we recommend is a must-try! With fresh ceviche, guacamole, salsas, and pico de gallo – some of the best tacos we've ever had in Mexico have been on a charter. No better place to eat a fresh taco than with views of the crystal clear waters of Banderas Bay. For more information about chartering and renting a boat in Vallarta and inside the Bay of Banderas – contact us at Palmara Luxury Yacht Charters anytime, we look forward to hearing from you.