YouTube is packed with tons of audio content, like songs and podcasts. But what if you want to listen to them without the video, maybe offline or to save on your data? That's where YouTube to MP3 converters come in. They let you turn those videos into MP3 files, so you can download and listen whenever you want, even without the internet.
These converters are super handy. You can make your own music playlists or save on phone data by skipping the video part. But with so many of these tools out there, picking the best one can be tricky. 
Don't worry, we've got you covered! We've looked at the top free YouTube to MP3 converters for 2023 and have shortlisted the best free YouTube MP3 downloader for you. We checked them for things like how fast they work, how easy they are to use, the sound quality, safety, and what other users are saying. Keep reading to find out our top pick and why it might be the perfect fit for you!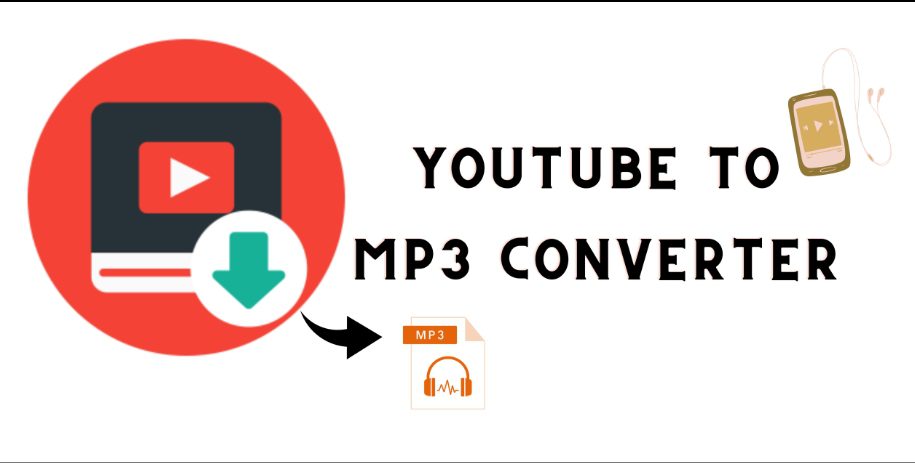 Editor's Pick: PPTube YouTube to MP3 Downloader
The Ultimate YouTube to MP3 Downloader for Windows and Mac
PPTube YouTube Music Downloader is a cutting-edge YouTube to MP3 downloader designed specifically for Windows and Mac users. This tool effortlessly extracts the audio from your favorite YouTube videos, converting them into high-quality MP3 files. Whether you're looking to curate an offline playlist, save on mobile data, or simply enjoy uninterrupted listening, PPTube has got you covered.
What sets PPTube apart is its user-friendly interface, ensuring a seamless experience even for those who aren't tech-savvy. With swift conversion speeds and a focus on maintaining the original audio quality, PPTube is quickly becoming a favorite among music enthusiasts and podcast listeners alike.
Its compatibility with both Windows and Mac ensures that a wide range of users can benefit from its features. If you're on the hunt for a reliable and efficient YouTube to MP3 converter, PPTube might just be the solution you've been searching for. Apart from being a YouTube music downloader, PPtube can be used for a lot of other purposes, like downloading videos and music from Facebook, Instagram, Twitter, Spotify, etc.
Some of the key features of this tool are:
Supports 10,000+ popular sites like, Spotify, Facebook, Instagram, Dailymotion, SoundCloud, Vevo, Vimeo, TikTok, Niconico, Bilibili, etc., including YouTube.

More than 20 output formats are supported




Videos: MP4, MOV, WMV, AVI, FLV, MKV, HEVC MP4, HEVC MKV, 3GP, iPhone/iPod, iPad, Android Phone, Android Tablets.




Audios: MP3, M4A, MKA, WAV, AAC, FLAC, AIFF, and OGG.

Downloads high definition video and supports various video resolutions, like 480p, 360p, 720p, 1080p, 2K, 4K, and 8K.

Download playlists, channels, and albums from YouTube, Spotify with one click.

10X faster download speed than other video/music downloaders.

Trim or Cut YouTube videos.

Download YouTube subtitles and lyrics in various languages.
Steps to download Youtube MP3 using the PPtube tool: 
Step 1: Copy the YouTube music video link you want to change into an MP3.
Step 2: Open PPTube and click "paste URL". Then, choose MP3 in the "download then convert" section. You can also use PPTube's built-in browser to find and download music directly.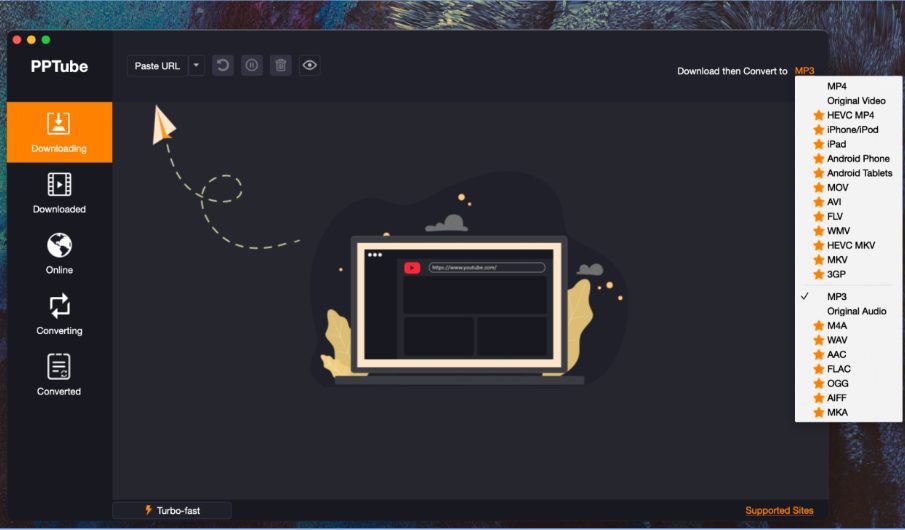 Step 3: Wait a moment, and PPTube will change the video into a top-quality MP3. Check the 'Downloaded' section, and your new MP3 will be there.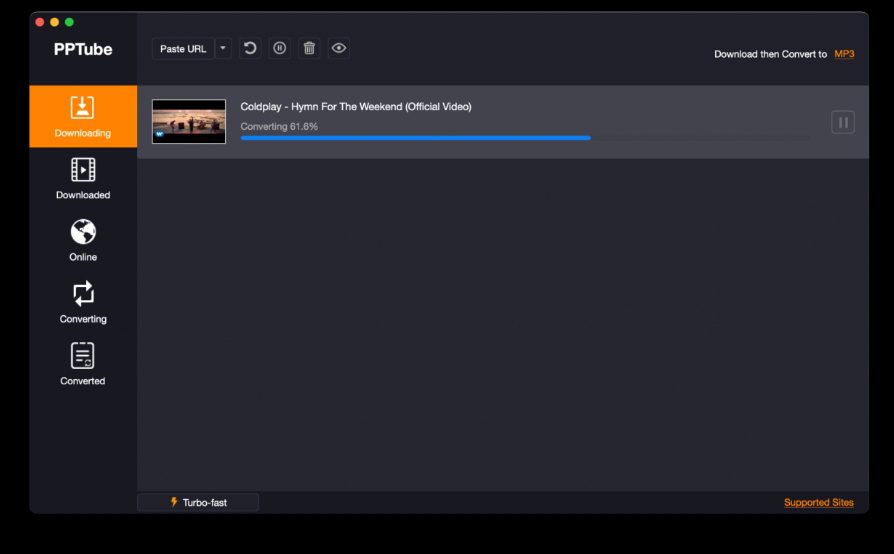 That's it! With PPTube, changing YouTube music to MP3 is super easy and free. Try it out and enjoy your favorite songs anytime!
Pros and Cons of PPtube:
Pros:
Extensive Compatibility:

PPTube supports over 10,000 video and music streaming platforms, ensuring you can convert almost any YouTube video to MP3.

High-Quality Conversions:

The tool retains the original audio quality, offering conversions to 320kbps MP3 format, ensuring crisp and clear audio tracks.

Batch Downloads:

If you have multiple YouTube videos to convert to MP3, PPTube allows you to process them simultaneously, saving valuable time.

Built-in Browser:

The inclusion of an in-app browser means you can navigate, select, and convert YouTube videos without ever leaving the application.

Private Video Access:

PPTube can convert private YouTube videos to MP3, a feature not commonly found in many converters.

Multi-Tasking Support:

Convert multiple YouTube videos to MP3 concurrently, optimizing the conversion process.
Cons:
Trial version supports 3 downloads and 1 playlist.
Alternative: YouTube2Mp3 – Online YouTube Converter
Youtube2mp3 Converter is a free online tool that lets you easily convert and download your favorite YouTube content. The best part? No need to sign up or register!
With Youtube2mp3, you get a reliable converter that's super fast and doesn't have any limits. Unlike some other converters, this one offers a range of sound qualities, from 64kbps all the way up to crystal clear 320kbps and even 4k.
Using Youtube2mp3 is a breeze. You don't need any apps or extensions. Just head to the site, paste your video link, and in a few moments, you'll have your MP3 or MP4 file ready to go. Want a quick trick? Just add "rip" before the YouTube URL, and it'll take you straight to the conversion page. It's that simple!
So, for a hassle-free YouTube conversion experience, give Youtube2mp3 a go. It's fast, free, and super user-friendly.
Steps to download Youtube MP3 using YouTube2Mp3: 
Step 1: Go to the Youtube2mp3 site and paste the YouTube video URL in the textbox
Step 2: Your video will be rendered, and you will get an option to download the audio file along with video download options. Check this: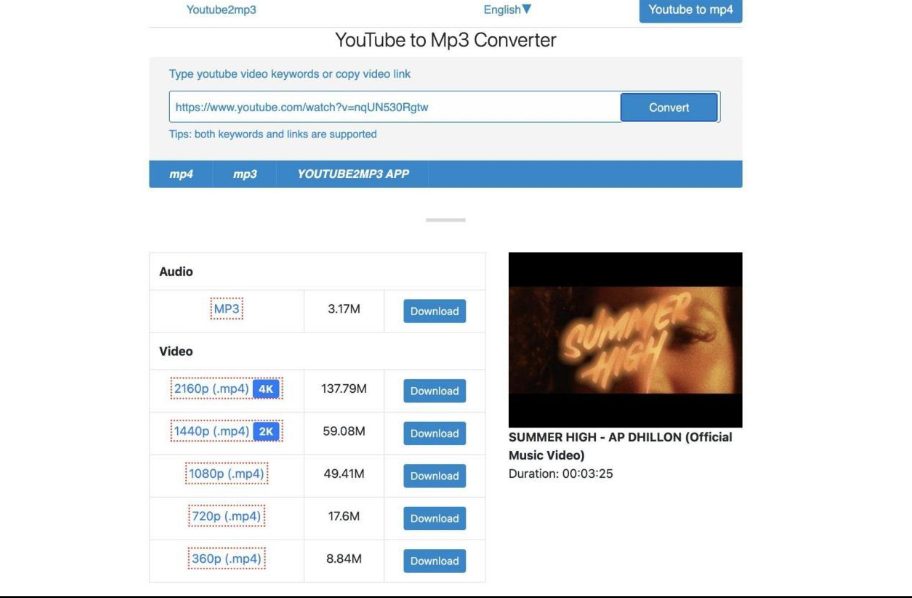 Step 3: To download the mp3 music, click on the download button in the Audio section.
Pros and Cons of YouTube2Mp3
Pros:
Free to Use:

No hidden charges or fees for converting and downloading content.

No Registration Required:

Users can start converting without the need to sign up or log in.

No App or Extension Needed:

Everything happens online, so there's no need to download additional software.

User-Friendly Interface:

The website is intuitive and easy to navigate, even for first-time users.
Cons:
Potential Quality Loss:

While it offers various quality options, online converters might not always provide the same quality as the original video.

Ads:

Like many free online tools, there might be ads or pop-ups that can be intrusive to some users.

Limited to YouTube:

The primary focus is on YouTube content, which might limit users looking to convert from other platforms.

No Batch Downloading:

Users might not be able to convert multiple videos at once, which can be time-consuming if they have a list of videos to convert.
Conclusion
While there are numerous YouTube to MP3 converters available, not all are created equal. PPTube Video Downloader stands out as a comprehensive solution, offering not just YouTube conversions but also catering to a myriad of other platforms.
Its versatility, combined with its user-friendly interface and high-quality output, makes it a top contender in this space. While free tools like YouTube2Mp3 provide quick solutions, investing in a tool like PPTube ensures reliability, quality, and a broader range of features. For those serious about their content and looking for a seamless experience, PPTube is undoubtedly worth the investment. Dive into a hassle-free world of content consumption with PPTube and elevate your offline listening and viewing experience!