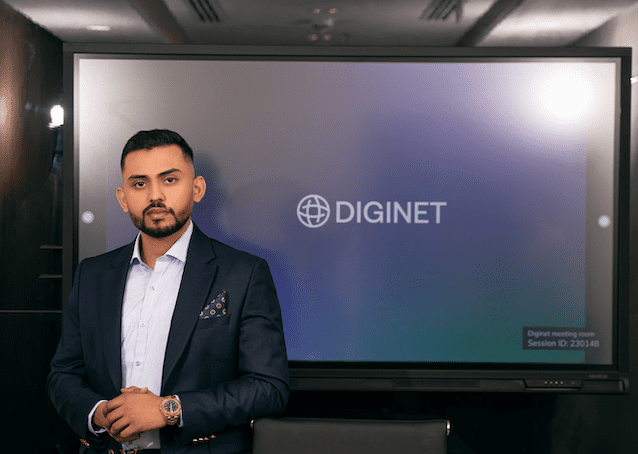 For a company to stand out in a competitive field such as digital marketing, the Chief Executive Officer (CEO) must be a steadfast visionary who can pick seemingly fresh ideas and transform them to phenomenal projects and results.
These ideas which are easily discarded by others are looked upon like diamonds in the rough by a visionary and he dedicates the time and effort needed to reveal their true potential. This tendency to notice potential where the majority do not is what earmarked Musa Mughal as an expert  in the world of digital marketing and in turn led to the unprecedented growth of Diginet Global .   
Some of these ideas include; providing youth-centered content on his Facebook feed when he started out, viewing Facebook as a marketplace and not just a social media platform, deciding to start his own company instead of overthinking the decision, and maximizing the scarce materials available through the creation of videos.
Musa's early beginnings and its phenomenal impact on Diginet Global
Difficulty is usually the unseen force which motivates people to think outside the box and this we see justly exemplified in the life of Musa Mughal. Musa grew up in an average income household, which meant that money was almost never enough for the needs of the family.
The lack of sufficient income as a teenager and his big dreams is what drove him to learn how to make his physical and virtual environment work for him and not the other way round. It is an open secret that in the world of content marketing, those who thrive are those who not only think outside the box but believe strongly in their vision that they are able to pass that vision along to others; and this is what we see demonstrated boldly in the life of Musa Mughal.
Musa Mughal's Tactics Fuelling Unprecedented Growth
Musa Mughal maximizes innovative strategies, automation, and data-driven insights to provide much more excellent results than his peers. He is also intentional about staying ahead of industry trends, which ensures maximum customer sourcing with little effort from the customer. In addition, creation of content that not only engages the audience but is also cryptic enough to make message deciphering easy from the video title alone.
He has also leveraged his strong awareness of social media consumer's interests and built good relationships with celebrities in other countries. For example, during his visit to Dubai for the NAS summit; he took advantage of the situation by ensuring he got a good rapport with the prominent influencers present at the summit, hence leading the followers of these celebrities to the Diginet Global landing page.
Again, the ease with which he engages with people who excel in their respective fields has steadily made his dream to grow his company feasible. It has increased brand reach and more trust among the company's target audience is developed by leveraging influencers.
The matchless tactics adopted by Musa Mughal has led to the unprecedented growth of Diginet Global in several ways. The significance of product and content excellence guarantees that the quality produced does indeed fulfill the demands of the market and current trends.
Musa's intentionality to cultivate genuine connections although gradual yields long-term growth. Furthermore, creating material that is championed by a dedicated creative team is what makes him distinct from the competition.
After extensive research into multiple methods of campaigns and data collection, advertising expenditure is optimized, the correct audience is targeted, and campaign effectiveness is increased through smart media buying.
Every of these elements' pitches into the 360′ growth, which enable Diginet global to enjoy success in the digital arena. At Diginet Global Ltd, the aim is to go above and beyond to deliver extraordinary results by being insistent and tasking the employees. Musa's dedication to these tactics have pushed the company to where it is right now.
Employees are motivated to work because he consistently strives to maintain a healthy work-life balance through the work environment. This is done by making flexible work plans, policies that favor the employees, and promoting an atmosphere of self-care and well-being.
In conclusion, Musa Mughal stands as the force behind the unprecedented growth Diginet Global has experienced overtime and he continues to inspire all of his employees as he goes.