Vakhtang Abuladze is the CEO of Bazista, a decentralized online marketplace aiming to bring down e-commerce barriers through deep integration of blockchain technology and Bazista token as a means of payment. An interview with the CEO of Bazista on BZS Token Sale.
1) Could you please tell us your name and about yourself?
Thank you for your interest in Bazista project. So, I was born in Russia in 1991. I have a degree in Accounting, analysis and auditing from the Tver State University (Russia). In 2013 I moved to Georgia and joined the ESM Business School of Free University of Tbilisi. In 2015 I Obtained a master's degree (MBA) in Operation Management. During the studies, I worked at the financial Department in one of the largest retail chain of Georgia – Nugeshi. From September 2015, until 2017 I worked as an Audit consultant in PricewaterhouseCoopers (PwC) – Big Four Moscow office.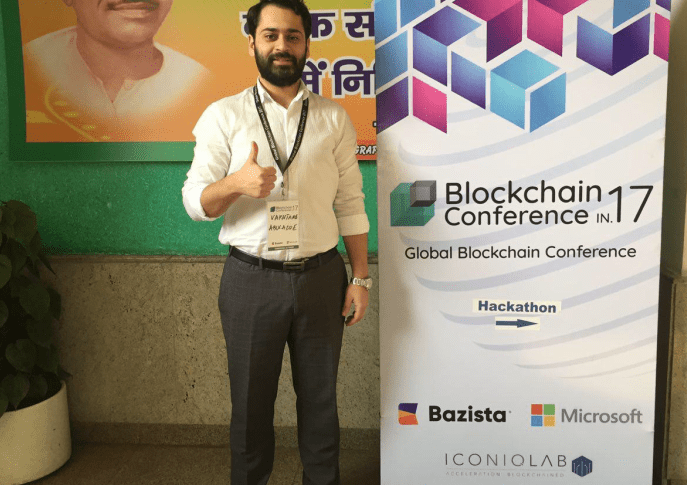 2) What is Bazista and what is the technology behind it?
Bazista – online marketplace which aims to bring down e-commerce barriers through deep integration of decentralized money as a payment instrument. E-commerce democratization, which Bazista brings, stands for unlimited access to the global online trading for millions of small and micro businesses around the world.
Bazista is looking to use only decentralized money as a payment instrument, seeing it as a way to overcome key barriers for a broader ecom distribution within the developing markets:
– Unbanked businesses will be able to get on easily by simply getting a decentralized money wallet. Bazista will integrate over 5 key decentralized currencies during the first operational year
– Commissions will much more attractive than those charged by traditional marketplaces. Maximum commission will be only 4% and can be lowered further once you deposit a certain amount of Bazista own tokens
– Decentralized payments will be fully transparent contributing to the security of both buyers and sellers. While traditional marketplaces do all to make the buyers feel comfortable, they often to protect sellers rights. Open blockchain protocol will insure that any possible conflict situation will be honestly settled down and forget about any hidden commissions as well
– Integration of multiple currencies will contribute to the broader usage of decentralized money in the real economy sector driving real value versus inert investment operations.
– Finally Bazista will allow to earn decentralized money by either recruiting new users or the helping the sellers to find a relevant customer. That's a unique new way to earn Bitcoin, Ether or BZS owned tokens different from means like mining and exchanging.
3) Would you like to tell us about your team?
Bazista team are enablers and real doers united to create and deliver Bazista as one of the best performing E-commerce platform based on digital assets payment solutions and blockchain technology advantages
We are real professionals in each fields of business. Denis Sholokhov – Bazista CMO and one of the Bazista founders, responsible for marketing and promotion of the platform. Maxim Orlov – Bazista CTO has a huge practical experience of using php7 programming language with more than 7 years of work experience. Max Jackson – Bazista Head of strategic partnerships, business professional with over 20 years on international marketing experience across over 20 countries. Denis Kurilchik – Bazista Head of business development, with 5 years experience in crowdinvesting industry, Co-Founder at Digital Payment Solution, Fintech Connector representative in Russian Federation, Blockchain enthusiast and many other very important and experienced people.
4) What inspired you to launch a Blockchain and Cryptocurrency business with Bazista?
The moment when I really got into the whole blockchain and crypto thing was in early spring of 2017. Realizing that most cryptocurrencies were supported by speculative operations, me and the rest of the team have started thinking about an infrastructural solution, which would bring real value for decentralized money. The concept of Bazista – a new type of e-commerce platform came soon after that. We decided to create a solution that is equally intuitive and efficient to use versus solutions that were available on the market at the moment.  
Idea of an online marketplace came way before Bazista with part of the team had been involved in the development and maintenance of a small local online marketplace in Russia. This accumulated experienced has enabled us to develop the beta version of the platform and design the financial model and consumer launch strategy in less than 12 month. Integration of cryptocurrencies has always seemed to be extremely relevant for the e-commerce, especially when there are obvious barriers that can be easily overcome thanks to decentralized money. I think we are hitting the spot with Bazista, as other e-com players now start considering integration of cryptocurrencies as well.
5) What makes Bazista crypto ICO different from the others, tell us more about your value proposition?
There are not so many ICO projects that declare online marketplaces market development. We position ourselves as a marketplace, which is going to implement a lot of modern technological solutions on the platform. They are augmented reality, virtual reality, neural networks, machine learning, verification of users with blockchain, transparent and objective system of feedback from buyers and sellers, and many other solutions that will allow users of Bazista trading platform to carry out convenient and practical shopping experience.
6) How much do you intend to raise in the BZS Token Sale and What are the steps for investing in BZS Token?
Bazista ended Pre-Sale at 21 of November and first round of ICO at 2 of January. Soft cap is reached and now we are in process of second round of ICO with 66 000 000 BZS tokens available for purchases (approximately $6,5M). Investors may find text and video guide for how to invest in Bazista on our website: https://bazista.io/en
7) Why would Bazista increase in Equity and Value and how can BZS Token holders Profit if they invest now?
Bazista token is utility token with many functions inside the platform. So we develop ecosystem, which will have permanent demand on the Bazista token and in conditions of limitless edition, BZS token should be very liquid and increasing its value. Our ICO will end at 6 of March 2018 and we plan to list on some crypto exchanges and it will be possible for our investors trading by BZS token.
8) Would you like to share the exchanges where BZS Token will be traded and on what date will you start trading After ICO?
Unfortunately, we cannot name exchanges which we conduct negotiations in accordance with the confidentiality policy of the exchanges. Bazista tokens will be available on the exchange during 30 days from the end of ICO. However, I want to say that at the moment Bazista is negotiating with more than 3 exchanges.
9) Where do you see Bazista after ICO and in the next 5 years, do you have any value projection for the token price?
I also responsible for the financial and operating model of the marketplace and we have developed financial projection plan with our financial advisors for 5 years to year 2023. All projections and estimates are made based on official statistical information and marketing researches. According to this estimations, Bazista project will touch Break-even point in 2020 with more than $1m EBITDA. As I think it will be really success for the project and in parallel with the company success, BZS tokens will also grow up, but it is very difficult to give an accurate forecast on token price.  All investors and Bazista community members may find this projections on our website: https://bazista.io/en
10) What are your marketing and sales strategies to achieve this goal?
Bazista is the next generation trading platform that will launch next year in India, one of the fastest developing online commerce market with the great potential still waiting to be unleashed. At the same time India accounts for the largest share of global unbanked population with millions of small and micro businesses left on the sidewalks of the trend. Some of the merchants there turn to microfinance service, sometimes ending ripped off. Bazista marketing team developed Marketing campaign strategy for 2 years till 2019. All investors and guests may look at it on Bazista website. (Investors Deck) with details in promotion channels, conversion rates and many other important things.
11) Would you like to talk about your legal and security measures?
We organize our ICO in Estonia. Osaühing Digital Payment Solutions, a private company established under the laws of the Republic of Estonia (Company registration number: 14298836, Address: Narva mnt 63/4, Kesklinna district, Tallinn city, Harju county, Estonia, 10152). Digital Payment Solutions is not a financial institution and does not give investment advice or any other licensed financial services. You may find all other information in Terms and Conditions on Bazista website https://bazista.io/en
12) Do you have more information for our readers?
We see Bazista as being both commerce and humanitarian project. Decentralized money can become a real solution for over 2 billion unbanked people around the world, but giving the fact that crypto industry itself is at its early stages of development, we should start thinking about infrastructural solutions like banks or marketplaces today! By utilizing the power of blockchain we will provide unlimited access to e-commerce for any person in the world!
Enjoy Bazista!