The Fintech sector has been capturing the imagination of every financial startup, bank, credit union and service providers. The Finovate conference in New York City that took place this week was truly impressive, the roster is stacked with such heavyweights as JP Morgan, Celtic Bank, FIS, Marqeta, Intuit, Github, AWS, and the list goes on. All sharing insights and ideas that will continue to grow and innovate the Fintech industry.
One topic that was front and center at Finovate as part of a lending track is Buy Now, Pay Later (BNPL). According to a report by the Consumer Financial Protection Bureau, between 2019 and 2021, the number of BNPL loans originated in the U.S. by the top five lenders grew by 970 percent. Not only that, but the dollar volume of BNPL loans grew by over 1,000 during that same period, going from $2 billion to $24.2 billion.
This BNPL phenomenon has gained immense popularity due to its affordable, flexible value proposition, making it easier for people to afford large expenses while providing transparent and predictable payment options. At Finovate 2023 we truly saw a full cycle maturation of various BNPL offerings. 
Why Are Companies Integrating BNLP? 
The value-add of BNPL for companies is simple and irresistible, it increases the sell-through of their products and the average order value of purchases. This means companies that are actively integrating BNPL into their set of payment options and are seeing a real impact on the top and bottom lines.
Breaking Down Barriers For Customers to Big Purchases
One of the fundamental attractions of BNPL services is affordability. These platforms empower consumers to make significant purchases, like planning a dream vacation, by breaking down the expenses into smaller, manageable payments over time. Traditionally, individuals would save money over an extended period before embarking on such trips.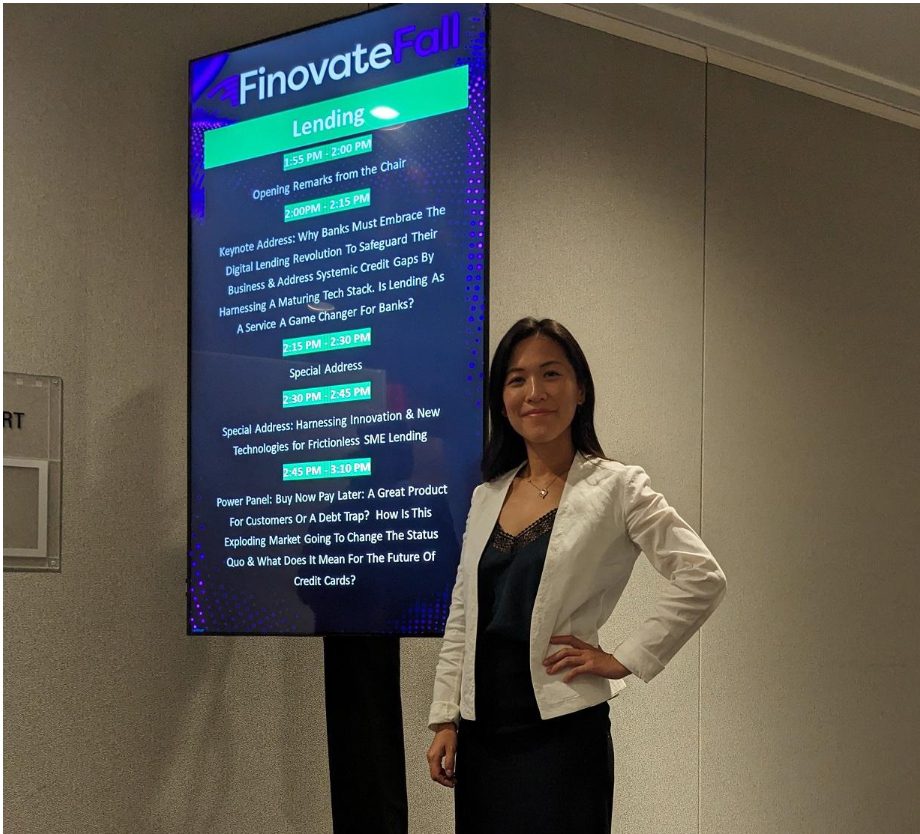 "With BNPL providers like Uplift, consumers can access pay-over-time options spanning 3 to 24 months. This flexibility allows them to create memorable life experiences without depleting their savings."  – Stephanie Yu, Director of Product Management, Uplift Inc (recently acquired by Upgrade, Inc.)
Fixed Costs and Predictable Payments Are Critical 
Unlike traditional credit cards that can accumulate interest on revolving balances, BNPL services offer a clear upfront cost at the time of purchase. This simplicity extends to interest calculations and payment schedules, ensuring no late-fee surprises to consumers. 
At the moment of purchase, individuals know exactly how much they will pay and when fostering better financial planning and peace of mind.
Businesses Can Offer Greater Flexibility and Personalization
The BNPL application process is both easy and instantaneous, seamlessly integrated into the checkout process. BNPL providers offer a range of options for consumers to pay off their balances within agreed-upon timeframes. 
Additionally, some BNPL platforms offer "pay-in-4" products, allowing customers to select payment plans that align with their preferences and financial situations. 
"In a nutshell, it allows you to pay for purchases over time, giving customers more options and flexibility on how to pay, where it's the customer that decides how and when they want to pay." – Akita Somani, SVP BNPL/POS Lending, US Bank
This flexibility empowers individuals to take control of their finances and choose a payment structure that suits their needs.
The Rise of Hybrid Credit Cards That Integrate BNPL
A notable development is the emergence of hybrid credit cards. These innovative cards combine the features of traditional credit cards with BNPL plans, offering consumers the flexibility to make purchases using BNPL or carry balances from month to month, akin to traditional credit cards. 
A good example of such a hybrid card is the Upgrade One card, which offers the rewards of a credit card and helps consumers stay within budget like a debit card. The cardholders can use the "Pay Now" option for everyday expenses to make sure they stay within budget and avoid paying interest or fee charges, and use "Pay Later" to spread payments over time.
This trend provides consumers with more choices based on their preferences and financial situations, ultimately benefiting them with greater financial flexibility.
Looking Beyond Finovate, What's Next On Horizon For BNPL
The BNPL industry is still in its early stages in terms of market share but has immense growth potential. Currently representing around 5-6% of online e-commerce transaction volume in the U.S., while it has already achieved market penetration of 10-20% in more mature markets. This trend extends beyond online transactions, with BNPL options gaining traction in brick-and-mortar stores. 
The future holds exciting prospects for traditional financial institutions and Neobanks that can tap into this growing market.
"56% of consumers who have used BNPL services say they prefer them to credit cards mainly because they're easier to pay and offer more flexibility."          –  Bankrate 
Furthermore, the emergence of hybrid credit cards is expected to intensify competition and innovation in the credit card industry. Companies will strive to offer superior products and features, ultimately benefiting consumers with more choices and improved offerings.
The Finovate conference continues to bring the brightest minds while showcasing and spotlighting the latest innovations in the Fintech space. It's an exciting and vibrant time for Fintech, and I am looking forward to what comes next.