Loud Crypto Records aspires to be the first decentralized rap label. It plans on leveraging a Genesis NFT collection, paying homage to HipHop's great to finance the Crypto Records DAO (decentralized autonomous organization).
The end goal: disrupting the music industry by shifting the power structures within the industry. Founder and Chairman of the project, Sam Kovacs was willing to share his vision with us in this interview with TechBullion.
Please tell us more about yourself?
My name is Sam Kovacs, the founder of Loud Crypto Records. I am known online as the author of the Dividend Freedom Tribe on Seeking Alpha, where I provide retail investors with the knowledge & tools to live off of dividends from equity investments in retirement.
I'm now leading a movement in the NFT space to bring to HipHop community together, launch a decentralized rap label where we will give artists generous contracts, and leverage new distribution opportunities within Web 3.0.
The whole idea seems quite out there, how did you come up with it?
In 2021, after a string of successful crypto investments (I rode Bitcoin from $12K to $60K, then ETH from $1.6K to $3.8K among other trades) I got introduced to NFTs through Play 2 Earn games such as Zed Run.
I played Zed casually without having much time to allocate and quickly got outpaced by all the smart minds dedicating themselves to the game.
But I instantly realized the vast potential that digital assets would have.
The NFT market is still in its infancy, the number of NFT owners is no more than 500,000-700,000 people by most estimates.
Most of the market is still wrapping their head around the concept of digital collectibles, but in 2022 if that is the way you're approaching this market, you're already a step behind.
It is all about utility. Everyone in the space knows this. The word has now already become a catch word. Many projects, however, and I suspect, even more investors, don't quite understand how to leverage the capabilities of NFTs to provide utility.
Do you have a few examples of utility, to give readers some context?
Yes of course. So utility, within the context of buying an NFT, is all the other "stuff" you get for being an owner.
I'll express this with a few easy-to-understand examples of projects I've encountered.
The first is Degenz NFTs. The project has evolved but right now it is simple: ownership grands you access to the founders, @osf_nft and @greatmanto_nft, alpha channel. So NFT owners are part of a small club which discusses interesting NFT investments.
The second example is House Of Legends NFT. The "utility" you got from minting an NFT, was that you basically were donating to charity through them. You'll note that while that this is a one-time utility, which is an inherent weakness.
The third example is Gambling Apes NFTs. The Gambling Apes give owners of the 7,777 NFTs a cut of the profits of their online casino. Some could argue that this is just disguised shareholders. Which is why I exited as an investor. Nonetheless, it shows the concept of utility.
Rug Radio is the fourth example I'd like to mention. Holders of the Rug Member Pass NFT get to interact with Rug Radio's emerging media platform. This one has caused confusion because the project also has a genesis NFT, A community token and DAO token.
So we see that there is also a challenge in between providing utility, and clearly communicating how multiple moving pieces play their role in a project.
The 5th example I'll give is Footium. Their NFT football clubs are the assets which will be necessary to play their Football Manager simulation game. Your Football club NFT will become a standalone NFT factory minting players which can be exchanged or sold with other clubs. Brilliant.
So what is Loud Crypto Records and what does it do?
Loud Crypto Records is our endeavor to disrupt the music industry by leveraging Web 3.0.
The first step is to launch our genesis NFT drop. We're creating a collection of generative art paying homage to 45 of the best HipHop artists of all time which is expected to drop in late April. There will be a supply of 4,500 Genesis NFTs which will finance the project.
Loud Crypto Records will then:
-launch the Crypto Records DAO: NFTs serve as the DAO token. If you have the NFT, you can vote on the artists which we will sign.
-host a knock-out Rap tournament with upcoming rap artists. NFT holders vote the winner of each round. Tournament winners get cash prizes and get a shot at being signed by the label.
-which leads us to signing artists. We'll flip the script on the usual industry rates. Today artists only get 12% of the money the industry makes. We can finance album production and promotion from a community led movement, and give artists a much better shot at financial freedom by keeping a large part of their revenues. NFT holders also get a cut.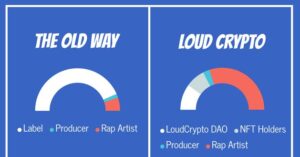 -We will then use the funds to make amazing music, bring in high-quality feats, and run innovative promotion campaigns which can be leveraged through: Single Music NFTs, mixtapes, merch, and more.
-Basically, we want to vertically integrate the music industry, not from artist to album, but from artist to consumer. The whole chain lives as one ecosystem. If we do it right, we can make a self-sustainable platform for artists to thrive musically and financially while involving the community immensely.
So how do I buy a Loud Crypto Records NFT and what do I expect next?
Well like all NFT projects you'll be able to acquire one at mint.
If you want to be sure to get yours, we have an easy watchlist. We decided to keep it easy for members to get on the whitelist. A bit of interaction on our Discord, or even sometimes a kind message is enough to sway us. We don't want artificially created hype.
Once they sell out, you'll be involved in the Crypto Records DAO. We'll collectively vote the artists we sign and the way we allocate resources to various artists.
You'll then get exclusive access to 1/1 merch with the IP of your NFT, exclusive NFT mixtape drops as well as airdropping NFT concert tickets, Single NFTs and more.
When our first artist's release their albums, NFT holders will get a cut of the royalties paid out to them based on ownership of the asset on the day of the distribution.
You'll be part of a platform which is undertaking a revolution in the music industry and there will be plenty of opportunities for community involvement for years. Not days or months, years.
Are there any resources you want to share with our readers?
If you want to join the Loud Crypto Records journey to transform music, you should follow us on Twitter, you can also follow my personal twitter account, @dollardollarsam.
Then I'd encourage you to check out our website, loudcrypto.io and join the discussion on our Discord chat.
If you're an aspiring rap artist you can also submit your tracks for a chance to be on one of our upcoming NFT mixtapes.